8 May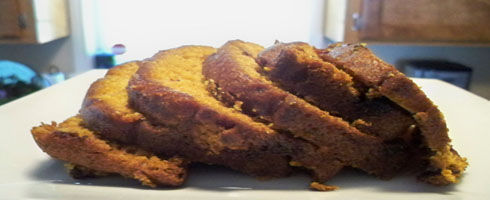 There is few things I enjoy more than baking.  Making this Pumpkin Date Nut Bread recipe isn't any different.  Some people dislike baking because you have to be very careful to measure and use the correct amounts, truth be told, that is one of my favorite parts of baking.  That, and baked goods are just super delicious.  This Pumpkin Date Nut Bread is awesome!
If you like any type of spice bread, zucchini or banana bread, then you must try this Pumpkin Date Nut Bread.  The bread is totally moist, and has just the right amount of sweetness and spices to not be overpowering.  Next time you find yourself wanting to bake, keep this Pumpkin Date Nut Bread in mind.  Also, if you find that you have no ground cloves (like it did), you can substitute with ground allspice from the pantry.
Pumpkin Date Nut Bread Recipe
2 2/3 cups sugar
2/3 cups vegetable oil
4 eggs
2 cups pumpkin (solid pack, canned)
3 1/3 cups flour
½ teaspoon baking powder
2 teaspoons baking soda
1 ½ teaspoons salt
1 teaspoon cinnamon
½ teaspoon ground cloves
2/3 cup water
2/3 cup chopped pecans or walnuts
2/3 cup chopped dates
Preheat oven to 350°. Using a mixer, cream oil and sugar in a large bowl. Add eggs, 1 at a time, mixing after each. Stir in pumpkin. Sift dry ingredients together and beat into creamed mixture. Beat in water. Toss nuts and dates in a tiny bit of flour just to coat; add to batter and blend. Place batter in two 9×5 greased loaf pans. Bake for 1 hour; test for doneness and bake a little longer, if necessary.
Hint: Serve bread plain or with a mixture of cream cheese and orange juice.