29 Sep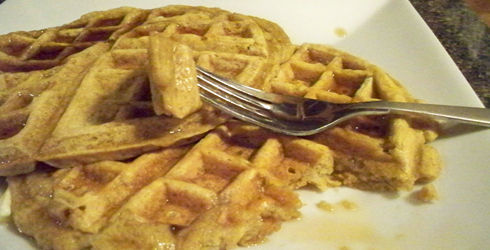 Cooking with foods that are in season is one of the best things you can do.  Not only do vegetables and fruits taste so much better, packed with flavor, but you can get them from local farms.  This helps your local economy and the environment, and provides you with the best tasting food you can ever imagine.  The fall harvest gives us some amazing squash, and pumpkin is one of them.  Pumpkin is extremely versatile, and can be used in many more recipes then just pie.

Pumpkin is delicious in bread, muffins, pancakes, waffles and all by itself.  I wanted to use pumpkin to make my absolute favorite sweet breakfast – waffles.  For me a good Pumpkin Waffle should taste like you're taking a bite into a pumpkin pie.  This recipe has an amazing flavor, and if you love pumpkin pie you will totally fall in love with these Pumpkin Waffles.
I have also added a quick and simple recipe for pumpkin puree.  Sometimes, around this time of year canned pumpkin can be hard to find, selling out and what-not.  But, you can usually find small pie pumpkins available in the produce section of your grocery store.  They are pretty cheap, I bought one for 78 cents the other day, and will give your about 3 cups of pumpkin puree.  You don't want to use too large of a pumpkin, the puree will turn out more stringy and not as flavorful as the smaller pie pumpkins.
Pumpkin Puree Recipe
1 2 to 3 lbs pumpkin
Preheat oven to 350.  Cut the top off the pumpkin, as you would when making a jack-o-lantern.  Cut the pumpkin in half, scoop out seeds and pulp.  If you wish, save seeds for roasting.  Once pulp and seeds have been removed, cut both halves in half again, making four pieces of pumpkin.  Place pumpkin cut side down on a cookie sheet, add some water to the cookie sheet, this will create steam to help cook the pumpkin a little quicker.  Bake in oven for 45 minutes, or until pumpkin flesh is tender.
Remove pumpkin from oven and let cool until you can handle safely, but still warm.  Scoop out all pumpkin flesh from skin, discard skin, and place in food processor or blender.  Puree until smooth.  Pumpkin puree can be kept in the refrigerator for 3 days, or freeze in an air tight container for up to 10 months.
Pumpkin Waffles Recipe
2 1/2 cups all-purpose flour
1/3 cup packed light brown sugar
2 1/4 teaspoons baking powder
1 teaspoon baking soda
1/2 teaspoon salt
2 teaspoons ground cinnamon
1 teaspoon ground ginger
1/4 teaspoon ground cloves
4 large eggs, separated
2 cups well-shaken buttermilk
1 cup canned solid-pack pumpkin
3/4 stick (6 tablespoons) unsalted butter, melted
Vegetable oil for brushing waffle iron or cooking spray
Preheat oven to 250°F and preheat waffle iron. Sift together flour, brown sugar, baking powder and soda, salt, and spices. Whisk egg yolks in a large bowl with buttermilk, pumpkin, and butter until smooth. Whisk in dry ingredients just until combined.
In a mixing bowl with a whisk attachment, whisk the egg whites until they hold soft peaks.  Fold them gently into the waffle batter, until just combined.
Brush waffle iron lightly with oil and spoon batter (about 2 cups for four 4-inch Belgian waffles) into waffle iron, spreading quickly. Cook according to manufacturer's instructions.
Transfer waffles to rack in oven to keep warm and crisp. Make more waffles in same manner.