12 Apr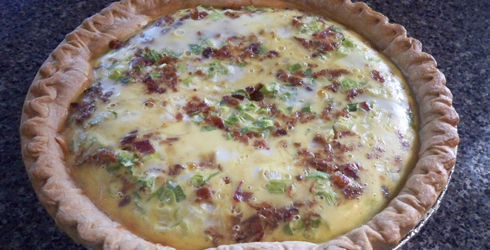 Quiche Lorraine is an awesome dish, with lots of flavor, simple ingredients, and easy preparation.  In French cuisine, a quiche is an oven-baked dish made with eggs and milk or cream in a pastry shell.  What makes a Quiche Lorraine is the addition of cheese and bacon.  And we all know, cheese and bacon makes everything better.  Although I have classified this Quiche Lorraine Recipe as a breakfast, it can also be served as an entree for  lunch, dinner, or an evening snack.

It is the simple ingredients that make this dish so wonderful.  Swiss cheese and a distinct delicious flavor that goes along so well with the Dijon and bacon.  The bacon gives a slightly smoky and salty flavor, but it is the Dijon mustard that really makes this Quiche standout.  Dijon adds just the right amount of flavor without overpowering the rest of the ingredients.  Everything is very well balanced in this dish, and if your like me, you'll find it all very addictive.  One slice is never enough.
When serving Quiche Lorraine as a brunch or meal other than breakfast, a side salad is the perfect accompaniment.  Since the Quiche is sort of custard-like in texture, it is nice to have something crunchy and light to go along with it.  If your a fan of Quiche Lorraine normally, I think you will more then welcome the addition of Dijon to the recipe.  I wouldn't have it any other way.
Dijon Quiche Lorraine Recipe
1 – 1 ½ cups (4-6 ounces) grated Swiss cheese
5 slices bacon, cooked and crumbled
2 tablespoons chopped green onions
1 deep-dish pie crush (9 inches), unbaked
3 large eggs, slightly beaten
1 cup half-and-half
¼ cup Dijon mustard
Preheat oven to 375°F.  Layer cheese, bacon, and green onions in pie crust.  In a medium bowl, combine eggs, half-and half, and mustard.  Pour evenly over layers.  Bake 35-40 minutes or until a knife inserted in the center comes out clean.
Makes 8 servings