7 Nov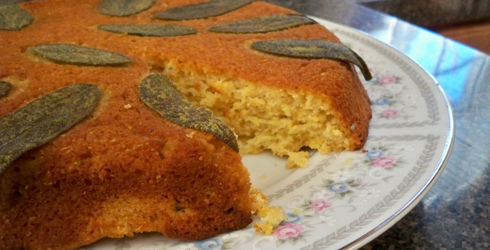 Sage and Honey Skillet Cornbread is a recipe that I have been making for a while now, it is always a big hit and never lets me down.  Cornbread is a simple dish that is found at holiday tables everywhere, this recipe makes it extraordinary.  Sage adds a subtle herb flavor that works so well with the slight sweetness of the cornmeal and the honey.  Sage and Honey Skillet Cornbread is super moist, and holds together better than any other cornbread I have every had before.

You can use any type of honey you want, but I like to use a wildflower honey.  Recently, I entered a contest on Foodie Blogroll to win two jars of Raw Adirondack Wildflower Honey from Mohawk Valley Trading Co., and I actually won!  I received my two jars wildflower honey, one is a summer honey, the other is an autumn honey.  Since it is November, I decided to use the autumn honey in my cornbread.  This worked out amazingly well, providing a very smooth sweetness that is not overpowering in the bread.  I have also used clover honey before and that works out just fine as well.
When you serve Sage and Honey Cornbread this season, be prepared for recipe requests.  Everyone loves this bread, and it goes so well with turkey, ham, mashed potatoes, sweet potatoes, or all by itself.
Sage and Honey Skillet Cornbread Recipe
1 cup cornmeal (preferably whole drain, medium grind)
1 cup unbleached all purpose flour
1 tablespoon baking powder
1 teaspoon salt
2 teaspoons chopped fresh sage plus 12 whole fresh sage leaves
1 cup whole milk
½ cup honey
1 large egg
½ cup (1 stick) unsalted butter
Preheat oven to 400°F.  Heat heavy 10-inch diameter ovenproof skillet (preferably cast-iron) in oven 10 minutes.
Whisk first 4 ingredients and 2 teaspoons chopped fresh sage in large bowl to blend.  Whisk milk, honey, and egg in medium bowl to blend.
Remove skillet from oven; add ½ cup butter.  Swirl until butter is melted.  Pour all except 2 tablespoons butter into egg mixture.  Add whole sage leaves to butter in skillet; toss to coat.  Arrange leaves over bottom of skillet, spacing apart.
Add egg mixture to cornmeal mixture; stir until just combined (do not overmix; batter will be wet and runny).  Pour batter over sage leaves in skillet.  Bake until browned around edges and tester inserted into center comes out clean, about 22 minutes.  Cool in skillet 10 minutes.  Invert onto platter.  If necessary, reposition sage leaves atop cornbread.
Makes 10 to 12 servings