4 Jun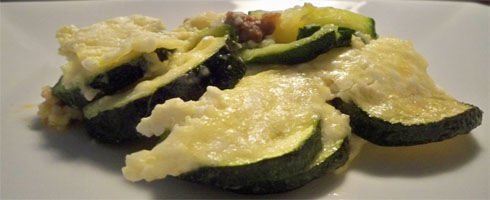 You know it's summertime when zucchini and summer squash are everywhere.  Between our home garden and the CSA farm, The Hungry Wife is overflowing with zucchini.  We have been working overtime trying to find recipes and unique ways to use up all our zucchini surplus.  This Sausage and Zucchini with Cheeses recipe, is an excellent way to put a dent in all the squash.  It is nice and versatile, you can serve it at brunch or as a light supper (The Hungry Wife's favorite way to eat it).
Sausage and Zucchini with Cheeses is easy to make, and can be made ahead of time.  Just keep it in the fridge and pop it in the oven when your ready to cook.  If your not a big zucchini fan, I encourage you to try out this recipe.  With the help of sausage and cheese, the zucchini is nicely hidden within the casserole and can be enjoyed by all, even the kids.  The Hungry Wife likes to use hot Italian sausage in this recipe, but some breakfast sausage would be excellent too, especially if your making it for a brunch.  Get your helping of veggies and embrace all the joys that summer crops have to offer.

Sausage and Zucchini with Cheeses
1 pound ground pork sausage, browned and drained
5 tablespoons all-purpose flour
6 medium zucchini, sliced
½ cup chopped onion
2 tablespoons butter
½ cup freshly grated Parmesan cheese
½ cup freshly grated Romano cheese
4 large eggs
½ teaspoon garlic salt
1 cup (4 ounces) grated white cheddar cheese
Preheat oven to 350°.  In a small bowl, combine sausage and flour and set aside.  In a skillet, sauté zucchini and onion in butter until tender.  In a separate bowl, combine cottage cheese and next 4 ingredients.  Layer sausage mixture, zucchini mixture, and cottage cheese mixture in a greased 13x9x2-inch baking dish.  Sprinkle with cheddar cheese.  Bake 40 to 45 minutes or until bubbly.
Makes 8-10 servings