9 Jul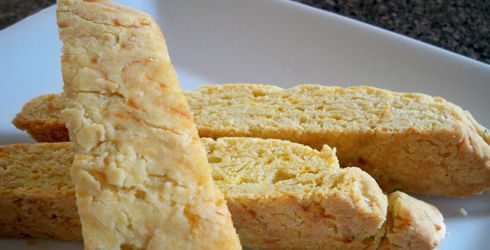 Savory Cheddar Thyme Biscotti are great to have around for eating with soup, pasta, and even all by themselves.  I love nibbling on biscotti when drinking tea or coffee, and this Cheddar Thyme Biscotti is perfect when your not in the mood for something sweet, but for something savory.

The notion when this was dreamed this up was to create a savory accompaniment for a soup or main dish.  So we combined the essence of a cracker, crouton, or biscuit and the convenient form of an Italian cookie to make a not-sweet "biscotti" suitable for dunking into soup or chili.
Savory Cheddar Thyme Biscotti Recipe
½ cup butter, melted
3 eggs
½ teaspoon minced garlic
1 teaspoon minced fresh thyme
½ cup grated Cheddar cheese
2 cups unbleached white flour
1 ½ teaspoons baking powder
½ teaspoon salt
Preheat the oven to 350°.  Lightly oil a baking sheet.
In a large bowl, beat together the butter and eggs with an electric mixer or a whisk.  Mix in the garlic, thyme, and cheese.  Sift the flour, baking powder, and salt directly into the wet ingredients.  Fold in until the dough is uniform.  Press together with lightly floured hands.
Use a spatula and your floured hands to scoop the dough onto the oiled baking sheet.  Form the dough into a 12 x 3-inch diameter log shape; then press down on the log, flattening it to a thickness of about an inch.  The flattened log should be about 14 x 4 inches.
Bake on the top rack of the oven for 25 to 30 minutes, until the dough is firm and just slightly brown.  Remove from the oven and carefully transfer the log to a cutting board.  When cool enough to handle, slice on the severe diagonal into about 1-inch pieces.  Arrange the biscotti cut side down on the baking sheet.  Bake for about 5 minutes on each side, using tongs to flip them gently.  Cool completely on a rack and then store in an airtight container for up to 2 weeks.
Makes about 12 biscotti
Nutritional Information
Per 3.5-ounce serving: 361 calories, 10.4 g protein, 22.1 g fat, 29.7 g carbohydrates, 12.6 g saturated fatty acids, 183.5 mg cholesterol, 533.4 mg sodium, 1 g total dietary fiber
Variation:
For Scarborough Fair Biscotti (named for that old Simon and Garfunkel song), omit the cheese and add 1 tablespoon chopped fresh parsley, ¼ teaspoon dried sage, and ¼ teaspoon crumbled dried rosemary.
Moosewood Restaurant New Classics, Copyright 2001, Moosewood, Inc., Clarkson Potter, Publishers