18 May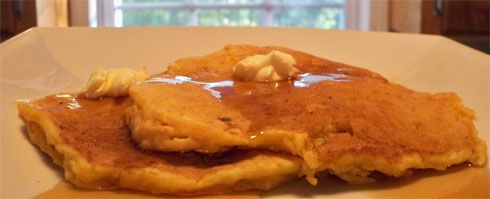 Delightfully delicate these Sweet Potato Pancakes are permeating with the enticing aroma of lemon, these deep golden-brown, thin pancakes are moist inside with crisp edges.
For breakfast, serve them plain or with butter or maple syrup.  For lunch or supper, top the Sweet Potato Pancakes with sour cream  and put a chunky salsa on the side.  For dessert, serve at room temperature drizzled with equal parts of lemon juice and honey stirred together and top with freshly whipped cream.  For another simple lemon syrup, stir together 2 tablespoons of fresh lemon juice and 1/2 cup of pure maple syrup.
For ease of cooking, combine the wet ingredients in a 1-quart measuring cup with a pouring lip, stir in the dry ingredients, and then pour the batter directly onto the hot skillet.

Sweet Potato Pancakes Recipe
1 cup peeled and grated raw sweet potatoes*
¼ to ½ teaspoon freshly grated lemon peel
1 large egg or 2 medium eggs
1 cup milk
2 tablespoons oil or melted butter
1 cup unbleached white flour
2 teaspoons baking powder
½ teaspoon salt
2 tablespoons sugar
*Grate finely: use a small-holed grater or, if your grater has larger holes for shredding, use a light pressure on each stroke to produce a finer shred.
In a bowl or large measuring cup, combine the grated sweet potatoes, lemon peel, egg, milk, and oil or butter.  In a separate bowl, stir together the flour, baking powder, salt, and sugar.  Gently stir the dry ingredients into the wet ingredients just enough to combine.  Do not beat or overstir.  Set aside to rest for 5 to 10 minutes.
Warm a lightly oiled skillet, griddle, or nonstick frying pan on medium-high heat.  When a drop of water bounces and sizzles on the skillet and before the oil smokes, pour on scant ¼ cups of batter to form round pancakes.  After about 2 minutes, when the pancakes are evenly dotted with bubbles and about half of the bubbles have broken, flip the pancakes with a spatula.  Cook the second side until lightly browned, about 1 minute.  Continue to cook batches of pancakes until all of the batter is used.
Serve right away or keep warm in a 250° oven.  If you plan to serve at room temperature or reheat later, cool the pancakes in a single layer on a flat surface and then stack for storage.  If storing for more than a few hours, refrigerate.
Nutritional Information:
Per 5.5-ounce serving:  278 calories, 7.3 g protein, 10.2 g fat, 39.3 g carbohydrates, 3.1 g saturated fatty acids, 70.4 mg cholesterol, 511.6 mg sodium, 1.4 g total dietary fiber
Moosewood Restaurant New Classics, Copyright 2001, Moosewood, Inc., Clarkson Potter, Publishers