1 Sep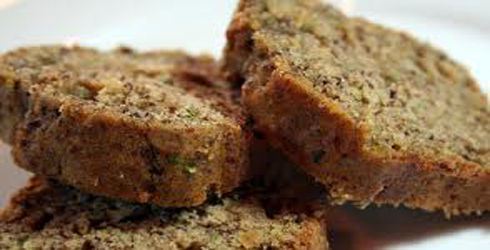 Zucchini bread is one of my all-purpose standbys.  It is so moist and delicious, perfect for when company stops over, and great for holidays to wrap up and give as a wonderful homemade treat.  When making Zucchini Bread I like to use small loaf pans, where this recipe will make 4 loaves at a time.

It is best to make Zucchini Bread in the summer when you can pick up fresh zucchini from farmers markets or grow it in your own garden.  However, this bread is perfect any time of year.  Another great thing about this bread is that you can make large batches of it. Zucchini Bread freezes very well.  I always like to have this bread in my freezer, it comes in very handy when I don't have time to bake.  When freezing bread, wrap first with plastic wrap, then with foil.  Place bread in a freezer bag and label with name and date.  This will ensure that your bread lasts for a long time and still comes out tasting delicious.
If you like carrot cake then you will surely love Zucchini Bread.  The two are similar, but I think the zucchini is less noticeable then carrots are.  Homemade bread has never been so easy.
Recipe: Zucchini Bread Recipe
Summary: Homemade bread has never been so easy.
Ingredients
2 ½ cups flour
¼ teaspoon baking powder
2 teaspoons baking soda
1 teaspoon salt
1 ½ teaspoons ground cinnamon
½ teaspoon nutmeg
3 eggs
1 cup vegetable oil
2 cups granulated sugar
2 teaspoons vanilla extract
2 cups grated zucchini
1 cup chopped nuts (walnuts or pecans are my favorite)
Instructions
Preheat oven to 325°
In a medium bowl, sift together the flour, baking powder, baking soda, salt, cinnamon, and nutmeg. Set aside.
In a large bowl, add eggs, oil, sugar, and vanilla. Beat well.
Add zucchini, dry ingredients, and nuts. Mix well.
Grease and flour pans.
Bake for approximately 50 minutes in four 7 ½ x 3 ¾ x 2 ¼ inch pans, or in two loaf pans for 65-75 minutes.
Variations
Use your favorite type of nuts, they are prevalent in the flavor of the bread!
Preparation time: 20 minute(s)
Cooking time: 1 hour(s)
Number of servings (yield): 8
Culinary tradition: USA (Traditional)
Rating 5 stars:  ★★★★★ 1 review(s)
Copyright © The Hungry Wife.