28 May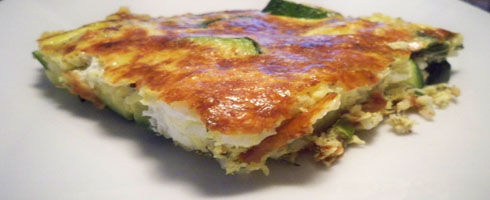 In the classic, Italian-type frittata, everything is stirred together in a bowl before you pour it into the hot skillet.  With dill, mint and feta, this Zucchini Rice Frittata has Greek and Balkan overtones.  Use this Zucchini Rice Frittata recipe as a basic template, and try different cheeses, vegetables, or herbs, or use croutons or potatoes instead of rice – or no starch at all.  If you wish, puree eight ounces of tofu in the blender with the eggs, water, and salt for a nutritious boost of soy protein.
Leftovers are good served either cold or at room temperature.  If you do not have an ovenproof skillet, instead of placing the skillet under the broiler, cover and cook the skillet on the stove top until frittata is firm.

Zucchini Rice Frittata Recipe
1 cup onion slices
1 tablespoon olive oil
1 ½ cups sliced zucchini (halved or quartered lengthwise, if large)
¾ cup cooked brown or white rice
1 tablespoon minced fresh dill (1 ½ teaspoons dried)
1 teaspoon dried mint (optional)
4 eggs
¼ cup water
¼ teaspoon salt, or more to taste
¼ cup crumbled feta cheese
¼ cup grated Parmesan cheese
ground black pepper to taste
In a 10-inch ovenproof skillet on medium heat, sauté the onion slices in the oil, stirring frequently for about 10 minutes, until the onions begin to brown.  Add the zucchini and continue to sauté for about 5 minutes, until just tender.  Transfer the vegetables to a large bowl and mix with the cooked rice, dill, and mint, if using.
Rinse the skillet and set aside.  In a separate bowl, whisk together the eggs, water, and salt until smooth and then whisk in the feta cheese.
Lightly oil the skillet and place it on medium-high heat.  Stir the egg mixture into the vegetables and rice and spoon it into the hot skillet.  Sprinkle the top with Parmesan cheese.
Lower the heat to medium-low and cook, without stirring, for about 5 minutes, until the edges are firm and pulling away from the sides of the pan.  The frittata should be mostly cooked but with the top still a little wet.  Place the skillet under the broiler until the top is firm and lightly browned, 3 to 5 minutes.  Or, if you prefer, cover and cook on low heat until firm on the stove top.
Slide the frittata onto a large plate or serve directly from the skillet in generous wedges.
Serves 2 to 4
Nutritional Information
Per 7-ounce serving: 245 calories, 13.9 g protein, 14.6 g fat, 14.4 g carbohydrates, 5.3 g saturated fatty acids, 277.4 mg cholesterol, 467.1 mg sodium, 1.7 g total dietary fiber
Moosewood Restaurant New Classics, Copyright 2001, Moosewood, Inc., Clarkson Potter, Publishers