13 Sep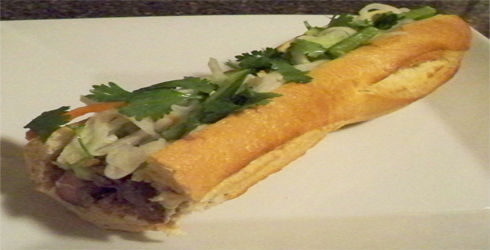 Banh mi is a Vietnamese sandwich made with a baguette.  There are several things that make this sandwich extra special: the meat has a super flavorful lemongrass marinade, which is excellent with pork, steak, or chicken; the pickled radish and carrots along with cucumber add a tart and cooling flavor that helps to counteract the spicy  jalapenos.  I promise you, you will fall in love with the Banh mi sandwich and will be craving one all the time.

If you have trouble finding dark (black) soy sauce and the pickled radish and carrots at your local grocer, you will be able to find them at asian markets.  You can even make your own slaw if you so choose, the recipe is below and goes very well as a side dish with other favorite asian meals.
Banh mi meat can be made with nearly any type of marinade, but is best with those that pack a lot of asian flavor and spices.
Bahn Mi Recipe
For each sandwich:
4 petit baguette roll or a 7-inch section cut from a regular length baguette
Mayonnaise
Soy sauce
1 pound your favorite boneless boldly-flavored meat or tofu, about 1/2 inch thick.  (Such as, thin sirloin or other steak, pork shoulder, chicken breasts sliced to thin strips and at room temperature)*
3 or 4 thin seeded cucumber strips, pickling or English variety preferred
2 or 3 cilantro sprigs, roughly chopped
3 or 4 thin jalapeño pepper slices
Daikon and carrot pickle (do chua)**
*Marinade:
1 ½  to 2 tablespoons granulated or light brown sugar
1 tablespoon chopped garlic
1 tablespoon chopped shallot or yellow onion
1 stalk lemongrass, trimmed and finely chopped (3 tablespoons)
1/4 teaspoon black pepper
1 tablespoon dark (black) soy sauce
½ tablespoon rice vinegar
1 ½ teaspoons sesame oil
1 tablespoon oil
Cut the chosen meat or tofu into pieces about 3 to 4 inches big. Set aside.
Put the sugar, garlic, shallot and lemongrass into an electric mini chopper and process to a fine texture. (Or, mince the garlic, shallot, and lemongrass individually, put them into a bowl, and add the sugar.) Add the pepper, soy sauce, vinegar, and oil and process to combine well. Aim for a relatively smooth texture. The marinade will be chocolate brown. Transfer to a bowl.
Add the meat or tofu, and turn to coat well. Cover and set aside at room temperature to marinate for 1 hour. Or, refrigerate up to 24 hours, letting the meat sit out at room temperature for 45 minutes to remove some of the chill before grilling.
Preheat a grill to medium-high. Grill for 6 to 8 minutes, turning frequently, until cooked through. Nick with a knife to test. Transfer to a plate, loosely cover with foil or an inverted bowl for 10 minutes before slicing and serving.
Slit the bread lengthwise, and then use your fingers or a bread knife to hollow out the insides, making a trough in both halves. Discard the insides or save it for another use, such as breadcrumbs. Crisp up the bread in oven preheated to 325ºF for 5 minutes, and then start building your sandwich.
Generously spreading the inside with mayonnaise. Drizzle in some soy sauce. Start from the bottom portion of bread to layer in the remaining ingredients. (As with all sandwiches, you'll eventually develop an order for layering the filling so as to maximize the interaction between flavors and textures.) Close the sandwich, cut it in half crosswise for easy eating, and enjoy.
**Daikon and carrot pickle (do chua)
1/2 cup water
1/4 cup sugar
1/4 cup distilled white vinegar
1/2 cup julienned carrot
1/2 cup julienned daikon radish
Kosher salt
In a small saucepan, combine the water, sugar, and vinegar and bring to a boil. Transfer the vinegar mixture to a bowl and cool. Add the carrot and daikon, mix well, and season with salt. Set aside to marinate for 30 minutes or store in the refrigerator up to overnight.
Serves 4