24 May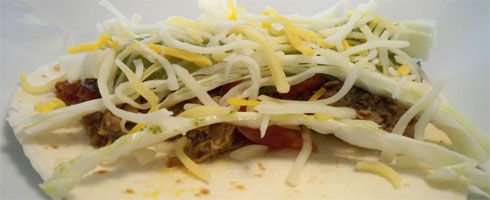 Carne Asada Recipe:  Carne Asada is a roasted beef dish, that literally means "roasted meat".  Carne Asada is typically made with thin slices of marinated meat, that is grilled and used in tacos and burritos.  This recipe is slightly different.  By using a beef round roast and cooking it in the oven for 3 hours, you get a super flavorful, moist beef that pulls apart easily for perfect taco sized portions.
Although this Carne Asada takes 3 hours to cook, it is extremely easy to prepare.  The green salsa complements the Carne Asada very well, and it adds a nice color to the dish.  Our family loves the crunchy cabbage in our tacos, but, if your not too sure about using cabbage then substitute with lettuce.  Also, you can use just soft tacos or pre-made hard tacos if you like.  Next time taco night rolls around at your house, try this recipe instead of the typical seasoned ground beef tacos.

Carne Asada Recipe with Green Salsa
Carne Asada:
2  cups vegetable stock or broth
1 (28 ounce) can diced tomatoes
2  chipotle peppers
1  yellow onion, chopped
4  cloves garlic, chopped
4  pounds beef round roast
2  tablespoons ground cumin
2  tablespoons chili powder
2  teaspoons salt
2  teaspoons freshly cracked black pepper
Green Salsa:
2  poblano peppers
4  tomatillos, chopped
2  avocados, halved, pitted and flesh diced
2  cloves garlic, chopped
1  lime, juiced
¼ bunch cilantro, leaves chopped
1  tablespoon white vinegar
Pinch salt and freshly cracked black pepper, plus more for seasoning
Tacos:
3  cups canola oil
24 corn tortillas
1  small head green cabbage, shredded
2  cups crumbled queso fresco
Preheat the oven to 325°.  Add the vegetable stock, tomatoes, chipotle peppers, onions and garlic to a Dutch oven and stir to combine.
In a small bowl, combine the cumin, chili powder, salt and black pepper.  Sprinkle the spice mixture over the beef so that it is evenly coated.  Put the seasoned beef into the Dutch oven and cover.  Braise in the oven until the meat is fork tender, about 3 hours.  Remove the beef from the pot and put it into a baking dish.  Shred with 2 forks and drizzle with some of the braising liquid to keep the meat moist.  Cover with some aluminum foil until ready to serve.
Green salsa:  Preheat a broiler.  Put the poblano peppers on a sheet pan under the broiler for 8 minutes, turning every 2 minutes until the skins are charred.  Remove the pan from the broiler, put the peppers into a bowl, cover with plastic wrap and let them sit to allow the skin to separate from the flesh, about 10 minutes.  Core, seed and peel the charred skin from the peppers.
Add the peppers along with the remaining salsa ingredients to a blender.  Puree the mixture until smooth.  Pour the mixture into a medium bowl.  Taste and adjust the seasonings with more salt and pepper, if needed.  Set aside.
Tacos:  Bring canola oil to 350° in a large skillet over medium heat.  Fry the corn tortillas in batches until crispy but still slightly pliable, about 2-3 minutes.  Transfer them to a sheet tray lined with paper towels to drain any excess oil.
Put the flour tortillas in a damp towel and microwave for 45 seconds on high to soften them.  Arrange a fried corn tortilla onto each flour tortilla.  Spoon some of the beef onto the fried tortilla, top each taco with some shredded cabbage, 2 tablespoons green salsa and 1 tablespoon queso fresco.  Repeat with the remaining ingredients.  Arrange on a serving platter and serve.