24 Apr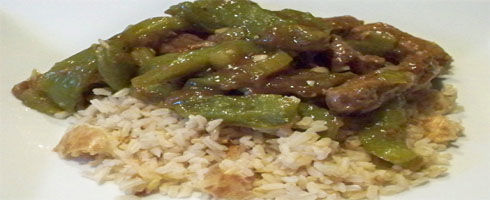 For those not familiar with Chinese Pepper Steak, let me give you a quick run down. Chinese Pepper Steak is basically a stir fried Chinese-American dish which consists of sliced steak, green bell peppers, and onions. The best part about this dish is the delicious tasting sauce, a mixture of soy sauce, beef broth, water, corn starch and in my recipe, margarine. I have been cooking this for awhile now and everyone just loves it. Don't be hesitant, try it for yourself.
Chinese Pepper Steak Recipe
1  pound sirloin steak
2  tablespoons margarine
2  tablespoons chopped onion
1  clove garlic, minced
1  cup chopped celery
2  green peppers, cut in strips
½ cup beef broth
½ teaspoon salt
Pepper to taste
2  tablespoons cornstarch
2  tablespoons cold water
1  tablespoon soy sauce
Put beef in freezer until partially frozen.  Slice into thin strips.  Heat margarine in large skillet.  Add beef and brown.  Add onions, garlic, celery and green pepper.  Saute until onions and pepper are tender but not browned.  Add broth, salt and pepper. Cover and simmer 20 minutes or until beef in tender.  Blend cornstarch with water and soy sauce until smooth.  Gradually add to mixture of beef and vegetables and simmer 3 minutes.  Serve hot over cooked rice.  Serves 4.