9 Feb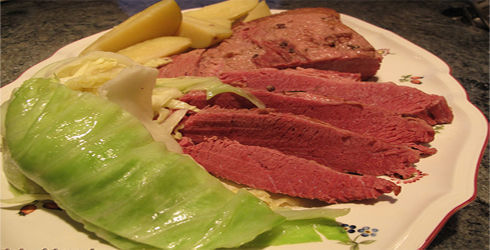 With March just around the corner, I start to get the craving for Corned Beef and Cabbage in preparation to celebrate my Irish heritage.  Even though I love this dish, I seem to forget about it until St. Patrick's day rolls around.  Corned Beef and Cabbage deserves more respect then it typically gets.  The meat is super flavorful, with a subtle and unique taste.  Leftovers are perfect to use in homemade Corned Beef Hash and sliced on sandwiches.

There are several ways to prepare this dish, but using a slow cooker is absolutely my favorite cooking technique.  Not only do I like cooking this way because it's easy, using less pots and pans by cooking meat and veggies together, but also because you get a super moist, melt in your mouth Corned Beef.  Cooking the veggies with the meat gives them a delicious flavor that you couldn't get by preparing them any other way.
Don't be afraid of this traditional dish, it deserves much more credit then it gets.  When fully cooked the meat will be a pink color, this is a well done meat.  I think this simple preparation of a simple dish, will have you thinking twice about Corned Beef.
Corned Beef and Cabbage Recipe
1 head cabbage (1 ½ pounds), cut into 6 wedges
4 ounces baby carrots
1 corned beef brisket (3 pounds) with seasoning packet
4 cups water
1/3 cup prepared mustard (optional)
1/3 cup honey (optional)
Place cabbage in slow cooker, if cabbage is large, you may not use all of it.  Top with carrots.
Cut open seasoning packet and sprinkle on top of vegetables.  Place corned beef brisket, fat side up, over seasoning and vegetables.  Add water.  Cover and cook on LOW for 10 hours.
Remove corned beef and vegetables. To get the most tender and attractive slices, corned beef should be sliced on the diagonal and against the grain.  Just before serving, combine mustard and honey in small bowl and use as a dipping sauce, if desired.
Makes 6 servings.