28 Dec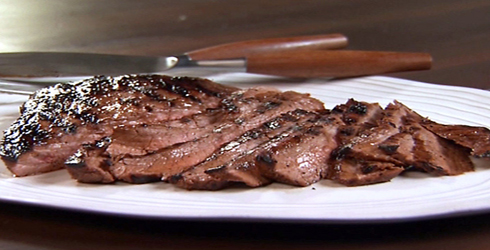 Every household should have delicious, foolproof recipes for affordable cuts of meat.  The Hungry Wife Flank Steak recipe is just that.  Flank Steak is a relatively long, flat cut of meat and used in a variety of dishes, such as, London Broil and fajitas.  Because it is a tougher cut of meat, you want to make sure you take the time to marinade and cook it just right.  Paying attention to not over-cooking is very important so that you have a tender steak and not a tough, chewy steak.

Whenever I broil I always keep the oven door ajar, so that I can keep an eye on the steak.  Just make sure you have your fan running, otherwise you might be listening to a smoke alarm.  The marinade will give you a nice crust when you broil it, and you should, when cooked properly, have a nice tender, pink center.  You can also use a flat iron steak in this recipe if you wish.
Scoring the steak will help the marinade penetrate the meat and keep it tender and flavorful.  Don't try and cut down on the overnight marinade, this is a very important step that makes this recipe so delicious.
Recipe: Flank Steak
Ingredients
¼ cup soy sauce
3 tablespoons honey
2 tablespoons cider vinegar
1 ½ teaspoons garlic powder
1 ½ teaspoons ground ginger
¾ cup vegetable oil
1 medium onion, finely chopped
1 ½ pounds flank steak or flat iron steak
Instructions
Combine soy sauce and next 6 ingredients in a shallow dish. Score steak on both sides, and place steak in marinade. Cover and refrigerate overnight, turning occasionally.
Preheat broiler. Remove steak from marinade, discarding marinade. Broil steaks 5 to 7 minutes on each side or to desired degree of doneness. To serve, slice thinly across grain.
Preparation time: 10 minute(s)
Cooking time: 14 minute(s)
Number of servings (yield): 4
Culinary tradition: USA (Traditional)
Rating 5 stars:  ★★★★★ 1 review(s)
Copyright © The Hungry Wife.