21 Jul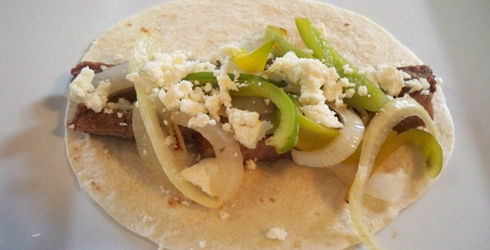 Grilled Fajitas are one of my husbands favorite things to eat.  They are easy to make and taste amazing, perfect for a family of four or two.  Don't let the Barbecue in the title throw you off, it is not talking about the saucy, messy barbecue.  Using the barbecue spice rub on the sirloin and grilling it adds a delicious subtle flavor that totally enhances the Fajitas.

One thing I love about Fajitas are their simplicity.  All you need to make a wonderful meal is a good piece of steak, peppers and onions, tortillas, some cheese, and if desired lettuce, sour cream and a touch of salsa.  The basting oil that is called for in this dish, is super useful and can be used in many different ways.  If you are lucky enough to live in an area that has Wegmans Grocery Stores, then this would be their Basting Oil.  If, like me, you no longer live near a Wegmans, or have no idea what Wegmans is, then simple use garlic flavored/infused oil and add a couple teaspoons each of dried thyme and parsley.
Grilled Barbecue Sirloin Fajitas Recipe
2 Sirloin Steaks (about 6 ounces each)
1 tablespoon Barbecue seasoning
2 tablespoons Basting oil, divided*
4-6 Fajita tortillas
* To make basting oil you need: garlic flavored/garlic infused oil (I like the canola oil with natural garlic extract, but have also found garlic flavored olive oil.  Both can be found in your local grocery store with other oils), add 1-2 teaspoons dried thyme and 1-2 teaspoons of dried parsley directly to the oil container.
Preheat grill on high 10 minutes.
Rub all sides of steaks with seasoning.  Let rest 5-10 minutes.  Drizzle both sides of steaks with basting oil to lightly coat (too much oil will cause flare-ups on the grill).  Clean grill with wire brush.  Using a soft cloth, coat grill grate lightly with vegetable oil.
Wrap tortillas in foil and place on upper rack (not directly above heat) in grill.  Keep in grill until ready to use.
Sear steaks, about 2 minutes until steak has changed color one-quarter of the way up from bottom.  Turn over; baste (brush seared side with basting oil).  Sear 1-3 minutes.
Turn over steaks; baste.  Cook 1-3 minutes and turn over again; baste.  Reduce heat to medium.  Close cover.  Check internal temperature by inserting thermometer to thickest part of steak.  Cook steaks to 5 degrees below desired internal temperature (refer to meat cooking guide below).
Transfer steaks to clean platter; let rest 5-10 minutes.  Slice steaks very thin and portion evenly onto tortillas.  Serve with lettuce, cheese, sour cream, and salsa if desired.
Final Beef Temperatures
Rare:  Very red, warm center  125 degrees
Medium: Pink, warm center  130 degrees
Well:  Pink, very warm center  145+ degrees