27 Oct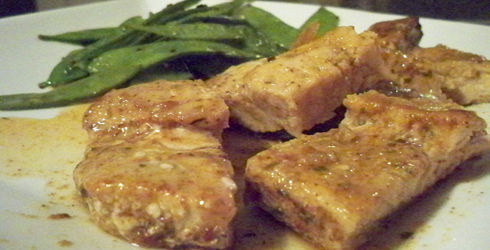 Herbed Adobo Pork Chops recipe is a wonderful alternative to breading and frying the chops, making them healthier and more flavorful.  Served with some fresh veggies, you can feel great about making this meal for your family.  It is quick and easy to prepare, making it the perfect weeknight meal.  The Herbed Adobo marinade would also be excellent on chicken breasts, if your not much of a pork eater.

Lean pork shares top billing with cancer-fighting garlic in this quick-to-prep entree.  Mexican adobo sauce is usually made from ground chiles, vinegar, and herbs.  This version follows that lead but, for the sake of convenience, calls on hot chili powder rather than ground chiles.  Another thing that I love about this recipe, is that it is very easy to reduce the serving size.  Since it is normally just my husband and I at dinner, I appreciate it when recipes are easy to cut in half.
Herbed Adobo Pork Chops Recipe
6 boneless pork loin chops, cut ¾ inch thick (1 ½ to 1 ¾ pounds total)
2 tablespoons packed brown sugar
2 tablespoons olive oil
2 tablespoons orange juice
2 tablespoons snipped fresh cilantro
1 tablespoon red wine vinegar or cider vinegar
2 teaspoons chili powder
1 teaspoon ground cumin
1 teaspoon dried oregano, crushed
½ teaspoon salt
¼ teaspoon ground red pepper (optional)
¼ teaspoon ground cinnamon
3 cloves garlic, crushed
Trim fat from chops.  Place chops in a plastic bag set in a shallow dish.  For marinade, in a small bowl combine brown sugar, oil, orange juice, cilantro, vinegar, chili powder, cumin, oregano, salt, red pepper (if desired), cinnamon, and garlic.  Pour over chops; seal bag.  Marinate in the refrigerator for 2 to 24 hours, turning occasionally.
For a charcoal grill, grill chops on the rack of an uncovered grill directly over medium coals for 12 to 15 minutes or until chops are done (160°F), turning once halfway through grilling.  (For a gas grill, preheat grill.  Reduce heat to medium.  Place chops on grill rack over heat.  Cover and grill as above.)
You can also cook the pork chops in a skillet.  Select a skillet that is the correct size for the amount of meat you are cooking.  Lightly coat a heavy skillet with nonstick cooking spray, or use a nonstick skillet.  Preheat skillet over medium-high heat until hot, than add meat.  Cook about 8 to 12 minutes, turning halfway through, or until reaches 160°F.
Makes 6 servings
Nutritional Information:
Per serving: 189 calories, 7 g total fat, 71 mg cholesterol, 171 mg sodium, 3 g carbohydrates, 0 g fiber, 25 g protein.