4 Oct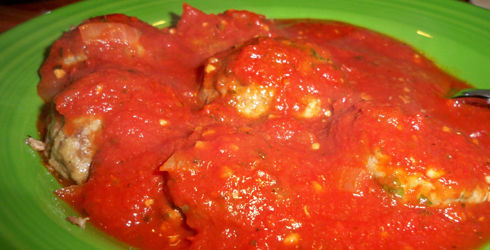 Everyone should have an amazing recipe for homemade meatballs, and these will not let you down.  Meatballs are simple to make, and it seems that everyone you talk to has a super secret meatball recipe.  Now you can have one too.  Something that I think is important to remember when making your own homemade meatballs, is to keep it simple and use fresh, quality ingredients.  Personally, that is what I think makes the best meatballs.  The recipe calls for using 80% lean ground beef.  Using a slightly higher fat lean ground beef adds additional flavor, and helps hold the everything together, keeping the shape perfectly.

There are more ways to use and enjoy meatballs then just on top of spaghetti.  Add them to your favorite sauce and serve as an appetizer, in a meatball sub, or make a delicious pizza with them.  The great thing about this recipe is that it can easily be converted to meet gluten-free criteria.  Simply by using Schar bread crumbs instead of panko, you now have some awesome gluten-free meatballs!  A secret tip for making awesome meatballs, moisten hands from time to time with cold water as you shape meatballs for easier handling.
Homemade Meatballs Recipe
1 cup panko bread crumbs*
2 large eggs
½ cup water
1/3 cup grated Pecorino Romano cheese
2 teaspoons minced garlic
2 tablespoons minced fresh Italian parsley
1 teaspoon Italian seasoning
1 teaspoon salt
½ teaspoon black pepper
1 pound 80% lean ground beef
*  For gluten-free meatballs, use Schar bread crumbs instead of panko.  Schar bread crumbs can be found in the natural foods section of your local grocer, or online at http://www.schar.com/us/gluten-free-products/bread-crumbs/.
Preheat oven to 450°.  Add panko (or Schar bread crumbs for gluten-free), eggs, water, cheese, garlic, parsley, seasoning, salt, and pepper to a large bowl; stir to combine.  Add beef; mix by hand until just combined (overmixing will toughen meatballs).
Scoop up about 3 tablespoons meat mixture to form balls; smooth by rolling in cupped hands.  Arrange meatballs on baking sheet, about 1 ½ inches apart.
Bake 15-17 minutes or until internal temperature reaches 160° (check internal temperature by inserting thermometer halfway into thickest part of meatball).  Transfer to clean platter.
Makes 14 meatballs
Nutritional Information:
Per serving (1 meatball): 110 calories, 4 g carbohydrates, 8 g protein, 6 g fat, 50 mg cholesterol, 310 mg sodium.