18 Oct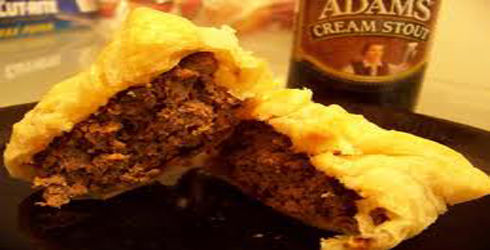 Mini Burgers Recipe:  A super fun recipe to make for your family, especially if you have children.  Mini Burgers are a great way to get your kids involved in cooking.  They are fun to make and a great recipe if you want a different way to serve up burgers.

Adding the ketchup and Dijon mustard directly to the meat, helps make this a no mess recipe when serving up to little ones.  Mini Burgers are the greatest finger food, perfect for a fun dinner or appetizers at your next bbq or party.  I like making Mini Burgers when I don't feel like starting up the grill, but still have that craving for yummy burgers.  If you have never used puff pastry, it is super easy.  You can find it in the freezer aisle of your local grocer.  All you have to do is thaw it out according to the package directions, lightly flour your surface, and then roll out just a bit and cut into strips.  So easy!
Recipe: Mini Burgers
Summary: Mini Burgers are a super fun recipe to make for your family, especially if you have children.
Ingredients
8 ounces ground beef
2 teaspoons ketchup
2 teaspoons Dijon mustard
¼ teaspoon salt
¼ teaspoon freshly ground black pepper
1 tablespoon olive oil
All-purpose flour for dusting
1 sheet (from a 17.5 ounce package) puff pastry
½ cup shredded Cheddar cheese
1 large egg, beaten with 1 teaspoon water
Instructions
Preheat oven to 400°F. Line a rimmed baking sheet with parchment paper; set aside
In a large bowl, mix together the beef, ketchup, mustard, salt, and pepper. Form the mixture into 8 equal size patties. In a large skillet, over medium-high heat, brown the patties for 1 to 2 minutes.
On a lightly floured surface, unfold the pastry and roll out. Cut the pastry lengthwise into 4 equal strips, then cut strips in ½ crosswise. Place 1 patty on each strip and top with Cheddar cheese. Fold the pastry up and around the burgers and pinch the edges together to seal, molding to fit around the patties. Brush the tops of the pastries with the egg mixture.
Place the mini burgers on the prepared baking sheet. Bake for 12 to 15 minutes or until puffed and golden. Let stand for 5 minutes before serving.
Preparation time: 10 minute(s)
Cooking time: 15 minute(s)
Number of servings (yield): 4
Culinary tradition: USA (Traditional)
Rating 4 stars:  ★★★★☆ 1 review(s)
Copyright © The Hungry Wife.