25 Feb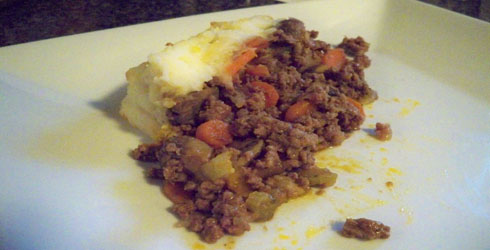 Beef Shepherd's Pie is a traditional, all-in-one comfort dish.  Shepherd's Pie is full of flavor, and with the veggies mixed in with the beef filling, it is the perfect way to sneak in veggies to picky eaters.  The creamy mashed potatoes on top are one of my favorite parts of this dish.  To help make the preparation easier, you can purchase frozen potatoes that are ment for mashing.  Simply cook in microwave and you are ready to mash away.  Much faster then peeling, cubing, and boiling your own potatoes.

One thing to keep in mind when making this dish, be careful of how much salt you are adding throughout the cooking process.  When salting to taste, the individual filling and mashed potatoes might be to your liking, but when you combine the two, the dish could end up too salty.  So use a gentle hand with your salt.
Recipe: Shepherd's Pie
Summary: Shepherd's Pie is a traditional comfort food that is super tasty, and an all-in-one meal. Perfect for chilly nights.
Ingredients
Filling:
2 tablespoons extra-virgin olive oil
3 tablespoons unsalted butter
1 medium onion, diced
3 medium carrots, peeled and thinly sliced
1 rib celery, thinly sliced
½ pound cremini mushrooms, quartered
2 cloves garlic, minced
Salt and pepper
¾ teaspoon dried oregano
3 tablespoons tomato paste
1 pound ground beef
½ cup low-sodium beef broth
½ teaspoon Worcestershire sauce
4 cups mashed potatoes, recipe follows
¼ cup grated Parmesan cheese, optional
Mashed Potatoes:
¾ cup milk
6 tablespoons unsalted butter
1 ½ pounds russet potatoes, peeled and quartered (or you can by frozen potatoes that are prepared for mashing. Follow directions by heating in microwave. Super quick and easy)
Salt and pepper to taste
Instructions
Heat oil and 2 tablespoons butter in a large skillet over medium heat. Add onions, carrots, celery, mushrooms, garlic, 1 ½ teaspoons salt, and oregano. Cook until vegetables are tender, about 10 minutes. Add tomato paste. Cook until color deepens, about 8 minutes. Add beef, broth, ½ teaspoon salt, Worcestershire, and pepper to taste. Brown meat, stirring to break up.
Transfer meat mixture to a 2-quart casserole dish. Spread mashed potatoes on top, ¼ inch from the edge. Sprinkle with Parmesan cheese and dot with remaining tablespoon of butter. Bake until browned and bubbling, about 40 minutes. Cool 10 minutes before serving.
Mashed Potatoes:
Warm milk and butter in a small saucepan over low heat until butter melts. Remove from heat; cover to keep warm.
Simmer potatoes uncovered in a large pot with cold water to cover (by 1 inch) and 1 teaspoon of salt until tender, about 15 minutes. Drain, return to pot, and toss over medium heat until moisture evaporates. Remove from heat, add milk and mash potatoes until slightly chunky. Season with salt and pepper to taste.
Preparation time: 25 minute(s)
Cooking time: 40 minute(s)
Number of servings (yield): 6
Culinary tradition: USA (Traditional)
Rating 5 stars:  ★★★★★3 review(s)
Copyright © The Hungry Wife.