14 Jun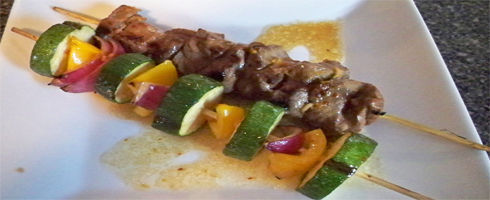 Kabobs make outdoor entertaining festive and fun. They can be easily assembled ahead of time, grilled to perfection in minutes and there's little clean up after the meal. They're perfect for backyard picnics and parties.  Who doesn't love a kabob?  You can put anything you want on a kabob, and these are no exception.  The traditional meat for kabobs is lamb, but you can also use: beef, goat, chicken, fish, seafood (shrimp, scallops), vegetable or tofu.

The marinade I use for this Steak and Vegetable Kabob recipe is wonderful and full of flavor.  It has a nice touch of citrus, and tastes great as a dressing for a salad too.  You can make a little extra and use it on lite salads later.
If you use wooden skewers instead of metal, soak wooden skewers in water 30 minutes before grilling.
Steak-and-Vegetable Kabobs Recipe
½ cup dry sherry
½ cup olive oil
2 tablespoons grated orange rind
½ cup fresh orange juice
¼ cup soy sauce
4 garlic cloves, minced
2 tablespoons minced fresh ginger
½ tablespoons dried crushed red pepper (optional)
1 ½ pounds rib-eye steak, cut into 1-inch pieces
1 small red onion, cut into 1 ½-inch pieces
1 medium-size yellow bell pepper, cut into ½ to 3/4-inch pieces
2 small zucchini, cut into 8 slices
4 cups mixed salad greens
Whisk together first 7 ingredients, and, if desired, crushed red pepper.  Remove and reserve ¾ cup marinade.  Pour remaining marinade into a shallow dish or large zip-top freezer bag; add steak.  Cover or seal, and chill 2 hours.  Add onion, bell pepper, and zucchini; toss to coat.  Cover or seal, and chill 20 minutes.
Remove steak and vegetables from marinade, discarding marinade.  Thread steak and vegetables, separately, onto 6 to 8 (12-inch) metal skewers.
Grill, covered with grill lid, over medium-high heat (350° to 400°) 10 to 12 minutes or until done.  Serve over mixed salad greens with reserved ¾ cup marinade.
Makes 4 servings
Nutritional Information
Per serving: 565 calories, 40 g fat, 36 g protein, 12 g carbohydrates, 3 g fiber, 153 mg cholesterol, 792 mg sodium, 3.9 g iron