25 Jan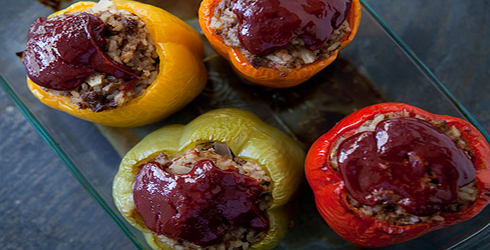 Stuffed Bell Peppers are a classic American dish, that is an all-in-one meal.  You get your meat and veggies in one delicious dish, although, I do like to serve them with a side of french fries.  This filling in the peppers is very similar to a meatloaf recipe.

Just like meatloaf, there are many different recipes for Stuffed Bell Peppers, but this is my favorite one I have come across so far.  It is flavorful with sauteed onions and garlic, and just the right amount of seasoning.  The ketchup sauce on top adds a bit of spice, and helps make the Stuffed Bell Pepper filling moist and delicious.  If you wanted to add a little more veggie to this recipe, you could finely chop one carrot and mix it in with the rest of the filling ingredients before stuffing each pepper.
Recipe: Stuffed Bell Peppers
Summary: Stuffed Bell Peppers are a classic American dish. You get your whole meal in a delicious edible container.
Ingredients
4 bell peppers, any color
salt and ground pepper, to taste
5 tablespoons extra virgin olive oil
1 medium onion, chopped
1 clove of garlic, chopped
1 pound ground beef
1 ½ cups of cooked rice
1 cup chopped tomatoes, fresh or canned (if using canned, drain liquid first)
1 tablespoon chopped fresh oregano, or 1 teaspoon of dried oregano
½ cup ketchup
1 teaspoon ground cumin
Dash Worcestershire sauce
Dash hot pepper sauce
1 tablespoon honey
Instructions
Bring a large pot of water to a boil over high heat. Meanwhile, cut the top off peppers 1 inch from the stem end, and remove seeds. Add several generous pinches to boiling water, then add peppers and boil, using a spoon to keep peppers completely submerged, until brilliant green (or red/yellow/orange) and their flesh is slightly softened, about 3 minutes. Drain and set aside to cool.
Preheat oven to 350°F. Heat 4 tablespoons of oil in a large skillet over medium heat. Add onions and cook, stirring often, until soft and translucent, about 5 minutes. Add the garlic and cook a minute more. Remove skillet from heat. In a large bowl add the onions and garlic, meat, rice, tomatoes, and oregano, and season generously with salt and pepper. Mix well.
Drizzle remaining 1 tablespoon of olive oil inside the peppers. Arrange the cut side of the peppers up in a baking dish, then stuff peppers with meat filling. Combine the ketchup, cumin, Worcestershire, hot sauce, and honey in a small bowl, then spoon over filling in peppers. Add ¼ cup of water to the baking dish. Place in oven for 40-50 minutes (or longer, depending on how big the peppers are that you are stuffing), until the internal temperature of stuffed peppers is 155°F.
Preparation time: 15 minute(s)
Cooking time: 50 minute(s)
Number of servings (yield): 4
Culinary tradition: USA (Traditional)
Rating 5 stars:  ★★★★★6 review(s)
Copyright © The Hungry Wife.