15 Mar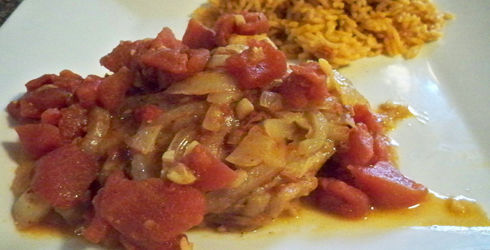 Swiss Steak is another great recipe for those days when you don't really feel like cooking.  There is minimal preparation and does not need to be tended to when simmering over low heat.  The best thing about Swiss Steak Recipe is how great it tastes.  When choosing the diced tomatoes for this dish, I like to get zesty seasoned diced tomatoes.  Seasoned diced tomatoes add nice flavor to the steak and really makes it something special.

With the prices of groceries rising, some people are cutting out their favorite foods from their menu.  Good cuts of meat can be pretty pricy, and cheaper meat cuts need to be prepared properly or they can be tough and lacking flavor.  Round steaks only cost about $5 a pound, and by simmering it for over an hour, the end result is a tender, flavorful main dish made with minimal ingredients.  Swiss Steak, lets you indulge in your favorite meat and not empty out your wallet feeding your family.
Recipe: Swiss Steak Recipe
Summary: Swiss Steak is another great recipe for those days when you don't really feel like cooking.
Ingredients
4 (about 1 ½ pounds) small round steaks
½ cup flour or pan searing flour
1 cup onion, sliced
2 tablespoons cooking oil
1 clove garlic, finely chopped
1 (14.5 ounce) can diced tomatoes
1 teaspoon dry mustard
2 teaspoons salt
¼ teaspoon pepper
Instructions
Pound the flour into the individual steaks with a meat hammer to tenderize and coat steaks fully with flour.
Heat oil in a large skillet over med-high heat, and lightly pan-fry the onions. Remove the onions from the skillet.
Add steaks to skillet, browning on both sides. (You may need to add a little more oil as necessary).
Reduce heat to low. Cover the steaks with the onions, while still in the skillet.
Mix the remaining ingredients together and pour over the steaks.
Cover and cook over low heat for about 1 ½ hours, or until fork tender.
Preparation time: 15 minute(s)
Cooking time: 1 hour(s) 30 minute(s)
Number of servings (yield): 4
Culinary tradition: USA (Traditional)
Rating 4 stars:  ★★★★☆ 1 review(s)
Copyright © The Hungry Wife.