10 May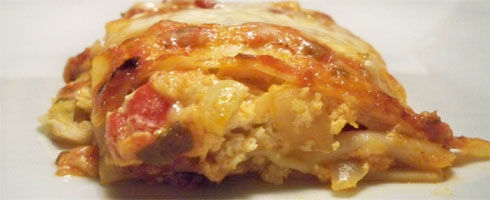 Artichoke Lasagna Rolls are a perfect way to use up left over lasagna noodles.  I always seem to have a few left in the box – not enough for a whole pan of lasagna.  You may assemble the rolls ahead and refrigerate them until you're ready to bake them.  Any leftover Artichoke Lasagna Rolls reheat nicely – just microwave them for 1 to 2 minutes.  When I made this recipe, I only had no-boil lasagna noodles in the pantry.  So, instead of making rolls I simply made lasagna the classic way (by layering sauce, noodle, ricotta mixture, mozzarella ect.), just on a smaller scale using the 8×8 dish.
Sometimes you need scaled-down recipes.  Maybe you live alone or with just one other person.  Maybe the rest of the family is out doing something else, and you don't really feel like preparing a lot of food.  No matter why you're on your own, this is a recipe to turn to.  Artichoke lasagna rolls are also awesome if you are looking for low-fat recipes.  Coming in with 545 calories, 12.7 grams of fat, 8.4 grams dietary fiber, 10 mg cholesterol, and 547 mg sodium per serving, Artichoke Lasagna Rolls and good for you too.  You don't have to be a non-meat-eater to appreciate the deliciousness of the low-fat recipe.

Artichoke Lasagna Rolls Recipe
4 lasagna noodles
2 cups spaghetti sauce
½ cup chopped fresh basil
¼ cup chopped sun-dried tomatoes
½ teaspoon dried oregano
4 teaspoons olive oil
1 cup sliced mushrooms
½ cup chopped onions
1 cup nonfat ricotta cheese
1 cup coarsely chopped artichoke hearts
¼ cup chopped roasted sweet red peppers
2 tablespoons grated Parmesan cheese
½ cup shredded nonfat mozzarella cheese
In a large pot of boiling water, cook the noodles for 10 to 12 minutes, or until tender. Drain and rinse with cold water.
Meanwhile, in a 1-quart saucepan over medium heat, simmer the spaghetti sauce, basil, tomatoes and oregano for 5 minutes. Set aside.
In a large no-stick frying pan over medium heat, warm the oil. Add the mushrooms and onions; cook, stirring frequently, for 4 to 5 minutes, or until tender. Transfer to a large bowl. Add the ricotta, artichokes, peppers and Parmesan; mix well.
Preheat the oven to 350°. Spread ½ cup of the tomato sauce in the bottom of an 8"x8" baking dish. Lay the noodles flat on a work surface. With a small spatula, spread about 1 tablespoon of the tomato sauce along the length of each noodle. Spread each with equal amounts of the ricotta mixture. Roll up the noodles to enclose the filling.
Place, seam side down, in the baking dish. Top evenly with the remaining tomato sauce and the mozzarella. Bake for 25 to 30 minutes, or until bubbly.
Makes 2 servings
Nutritional Information:
Per serving: 545 calories, 12.7 g fat, 8.4 g dietary fiber, 10 mg cholesterol, 547 mg sodium