31 May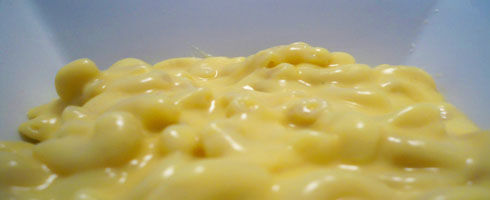 Ah, Macaroni and Cheese, the ultimate comfort food. There is no food that more people love, than a hot, creamy, cheesy bowl of Classic Macaroni and Cheese. No recipe collection is complete without a Macaroni and Cheese recipe. Buying the blue box with the powdered cheese does not compare to making it yourself, and it doesn't take much longer.
This Classic Macaroni and Cheese recipe is a blank slate, which you can add ingredients to, try out different types of cheeses, and even bake it in the oven to make a nice crispy, cheesy top.  Here, comfort food finds its definition in the traditional cheesy macaroni.  For a little extra zip, add a shake of hot sauce.  For some other ideas, you can add chopped onions, caramelize the onions, or use onion salt.  Chopped ham can be mixed in with the dish, so can veggies, like broccoli, zucchini, or bell peppers.  Doen't be afraid to use your imagination when making Mac and Cheese, or eat it just as it is, classic.

Classic Macaroni and Cheese Recipe
1 (8 ounce) package uncooked elbow macaroni
¼ cup butter or margarine
¼ cup all-purpose flour
1 ½ cups milk
1 teaspoon salt
2 cups (8 ounces) shredded sharp Cheddar cheese or other cheese
Paprika (optional)
Cook macaroni according to package directions, omitting salt.  Drain and set aside.  Melt butter in a heavy saucepan over low heat; add flour, stirring until smooth.  Cook 1 minute, stirring constantly.  Gradually add milk; cook over medium heat, stirring constantly, until thickened and bubbly.  Add salt and cheese, stirring until cheese melts.
Stir macaroni into cheese sauce.  Cook over medium-low heat 5 minutes; let stand 5 minutes before serving.  Sprinkle with paprika, if desired.
Makes 6 side-dish servings.
Nutritional Information
Per serving: 415 calories, 22.7 g fat, 16.9 g protein, 35.5 g carbohydrates, 1.4 g fiber, 66 mg cholesterol, 896 mg sodium, 1.0 mg iron, 352 mg calcium