16 May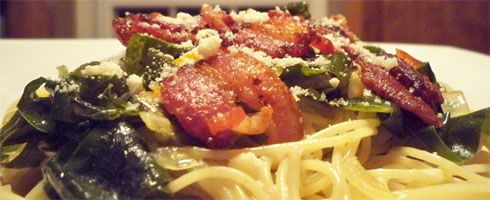 Since moving to South Carolina last year, The Hungry Wife has been trying to embrace our new southern lifestyle.  A lot of that is trying out new foods, and ways to cook them.  So, when we saw this Creamy Pasta and Greens recipe in our local newspaper this morning, we thought to give it a try.  And are we glad we did!
This recipe is one of the best things The Hungry Wife has made thus far.  It has all the creamy deliciousness of an alfredo cheese sauce, mixed with the semi-bitter greens, sweetness of the bell peppers, little bit of heat from the crushed red pepper, and of course, the salty, smoky taste of yummy crispy bacon!  Everything is better with bacon.
Collard, turnip, mustard  – The Hungry Wife can take about any leafy green vegetable and make it sing.  Greens are rich iron and good for you, but many people love them simply for their taste.  If you can eat spinach, you'll love all the other greens.  If you have never tried greens before this is your chance.  Creamy Pasta and Greens is pretty simple to make, and the best to eat.  Maybe not the most healthy recipe, but without a doubt, the most tasty and comforting.

Creamy Pasta and Greens Recipe
1 pound bag precut collard greens
1 cup water
1 14-ounce can chicken stock or broth
6 to 8 slices of bacon, cut into pieces
1 orange bell pepper, diced
1 large onion, diced
2 garlic cloves, minced
¼ teaspoon salt
¼ teaspoon black pepper
¼ teaspoon crushed red pepper
2 cups whipping cream
5-ounce package Parmesan cheese, divided
12-ounce package angle-hair pasta, cooked and drained
Cook greens in water and chicken stock for 10-15 minutes. (May season with salt, pepper and dash of sugar, to taste.)  Drain and set aside.
Cook bacon in large skillet or large saucepan until crisp.  Remove and drain on paper towels.  Reserve 2 tablespoons drippings in skillet.
Saute orange bell peppers, onions, and garlic in drippings until tender.  Add greens, crushed red pepper and additional salt and pepper, to taste.  Cook over medium heat, stirring occasionally, for 15-20 minutes or until greens reach desired tenderness.
In small saucepan, warm cream over medium heat.  Add all but 2 tablespoons of Parmesan; stir until melted.  Toss cream and Parmesan mixture with pasta.
Put pasta mixture on plate and top with greens mixture.  Crumble bacon over top and sprinkle with remaining Parmesan.  Serve immediately.
Makes 6-8 Servings