17 May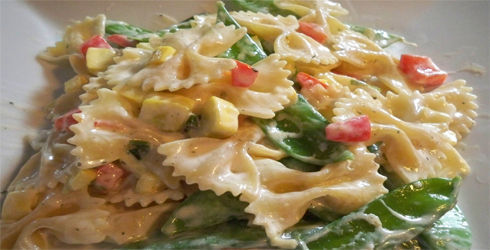 Creamy Pasta Primavera is a favorite dinner recipe, especially when spring veggies are abundant.  With farmers markets reopening, this is a great recipe to make that truly highlights the best in-season, local vegetables have to offer.  Creamy Pasta Primavera is a cinch to make, taking about 20 minutes total.  This recipe gets even better though, by offering a low calories, low fat, yet full flavor to the traditional Pasta Primavera recipes, with a hint of lemon.

There is no heavy cream, or cheese in this recipe.  Creamy Pasta Primavera recipe uses nonfat yogurt to replace the traditional sauce ingredients.  I used a plain greek nonfat yogurt, and it worked wonderfully.  You'll never be able to tell the difference.  Stirring a little cornstarch into the yogurt helps prevent it from curdling when mixed with the hot ingredients.  For the lemon-herb blend seasoning, you can use lemon-pepper seasoning, or, I used a seafood/chicken grill Zesty Lemon Seasoning.  Even though you're only using a teaspoon, it adds a great touch of flavor.
Recipe: Creamy Pasta Primavera
Summary: Creamy Pasta Primavera is a favorite dinner recipe, especially when spring veggies are abundant.
Ingredients
1 cup nonfat yogurt
¼ cup low-sodium vegetable stock/broth
2 tablespoons lemon juice
2 teaspoons cornstarch
12 ounces bow tie (farfalle) pasta
1 tablespoon canola oil
2 cups snow peas
2 cups yellow squash, sliced and cubed
1 cup sweet red pepper, chopped
½ cup scallions, chopped
1 teaspoon lemon-herb blend seasoning
salt to taste
Instructions
In a small bowl, stir together the yogurt, stock, lemon juice and cornstarch; set aside.
In a large pot of boiling water, cook the bow tie pasta for 8 to 10 minutes, or until tender. Drain.
In a large no-stick frying pan over medium heat, warm the oil. Add the snow peas, squash, peppers, and scallions; cook, stirring frequently, for about 10 minutes until veggies are crisp tender.
Remove the frying pan from the heat. Stir in the pasta, yogurt mixture, herb blend, and salt if desired; toss to mix well.
Preparation time: 5 minute(s)
Cooking time: 20 minute(s)
Number of servings (yield): 4
Culinary tradition: Italian
Rating 5 stars:  ★★★★★ 1 review(s)
Copyright © The Hungry Wife.