12 May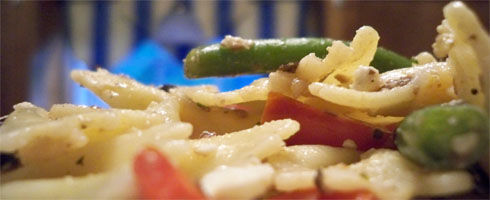 This Pasta with Easy Summer Sauce only requires a bit of chopping, and the green beans in the recipe cook right along with the pasta.  Here in Columbia, South Carolina it gets hot.  Really hot.  They call Columbia "famously hot" after all, and they weren't joking.  The temperature is reliably around 90 everyday, and it's only May.  So, what could be better in hot weather than a sauce that needs no cooking at all?
Intensely flavorful little grape tomatoes launch the tomato season, but you can use a variety of vine-ripened tomatoes diced into 1/2-inch pieces.  If you wish, use more tomatoes than is called for in the Pasta with Easy Summer Sauce recipe – even doubling the amount.  Just for fun, try making the sauce with a multi-colored assortment of heirloom tomatoes.  Pair the Pasta with Easy Sumer Sauce with whole wheat rolls, grilled zucchini slices, or maybe braised fennel with Parmesan, and serve with lots of juicy fruit for dessert.
Pasta with Easy Summer Sauce Recipe
2 cups quartered grape or cherry tomatoes*
¼ cup minced fresh parsley
2 tablespoons minced fresh basil
½ cup minced red onions
1 garlic clove, minced or pressed
¼ cup extra-virgin olive oil
1 teaspoon salt
½ teaspoon coarsely ground black pepper
2 teaspoons balsamic vinegar (optional)**
1 pound farfalle or other short chunky pasta
2 cups cut green beans (2-inch pieces)
½ cup crumbled feta cheese, or more to taste
Bring a large covered pot of salted water to a boil.  Meanwhile, combine the tomatoes, parsley, basil, red onions, garlic, olives, oil, salt, pepper, and vinegar, if using, in a large bowl.
When the water boils, stir in the pasta, cover, and cook for 2 to 3 minutes.  When the water returns to a boil, add the green beans and cook for 8 to 10 minutes, until the pasta is al dente and the beans are tender.  Drain well.
Add the pasta and green beans to the bowl with the seasoned tomatoes.  Stir in the feta cheese and gently toss everything together.  Serve hot or at room temperature.
*Or any variety of tomato diced into ½-inch pieces
**Taste the tomato mixture to decide if your tomatoes "want" the additional vinegar
Serves 4 to 6
Nutritional Information:
Per 13.5 ounce serving: 480 calories, 13.5 g protein, 16.7 g fat, 70.4 g carbohydrates, 3.3 g saturated fatty acids, 8.4 mg cholesterol, 823.4 mg sodium, 5.6 g total dietary fiber
Moosewood Restaurant New Classics, Copyright 2001, Moosewood, Inc., Clarkson Potter, Publishers