2 Dec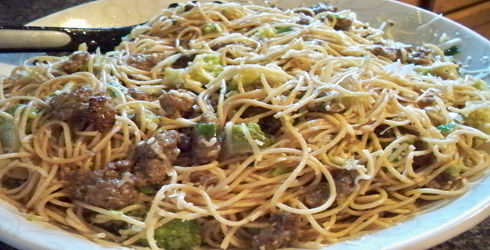 Pasta with Sausage Sauce is a great dish to make when the weather starts too cool down and the harvest has begun.  The simple sausage-cauliflower sauce is delicate and delicious, perfect for when you are wanting pasta but something different then the traditional red sauce.  Pasta with Sausage Sauce is sure to be a new favorite in your kitchen.

When I first told my husband that I was making a pasta tossed with a sausage and cauliflower "sauce", he was a bit concerned.  Low and behold, with a little trepidation, he ate his serving and then some.  Pasta with Sausage sauce is a wonderful dish when you want are craving something traditional yet different.  On of my favorite new pasta dishes to make!
Recipe: Pasta with Sausage Sauce
Summary: Pasta with Sausage Sauce is sure to be a new favorite in your kitchen.
Ingredients
12 ounces Angel Hair Pasta (or spaghetti)
3 tablespoons olive oil, plus more for drizzling
12 ounces sweet Italian sausage, casing removed
6 cloves garlic, chopped
1 small heat cauliflower, broken into small florets
1 bunch scallions, chopped
1 cup grated pecorino Romano or Parmesan cheese
Salt
Instructions
Bring a large pot of salted water to a boil. Add the pasta and cook as directed. Reserve 2 cups of the cooking water, then drain the rest.
Heat the olive oil in a large skillet over medium-high heat.
Crumble the sausage into the skillet and cook, breaking it up with a wooden spoon, until lightly browned and no longer pink.
Clear a space in the pan, add the garlic and cook until just golden, 1 to 2 minutes. Add the cauliflower and cook until the edges are browned, about 2 minutes. Add 1 cup of the reserved cooking water to skillet, cover and reduce the heat to medium.
Cook until the cauliflower is tender, about 8 more minutes. Uncover and boil over high heat until the liquid is almost evaporated, about 2 more minutes.
Add the pasta to the skillet along with the scallions. Drizzle with olive oil and season with salt. Toss for a minute or two to wilt the scallions and coat the pasta with the sauce, adding up to 1 cup of remaining cooking water, if needed to loosen.
Remove from the heat, sprinkle with the cheese and toss. Divide among shallow bowls and drizzle with more olive oil, if desired.
Variations
Choose Romano or Parmesan cheese per your preference. You may also use hot sausage for a little heat.
Preparation time: 10 minute(s)
Cooking time: 30 minute(s)
Number of servings (yield): 4
Culinary tradition: Italian
Rating 4 stars:  ★★★★☆ 1 review(s)
Copyright © The Hungry Wife.