15 Nov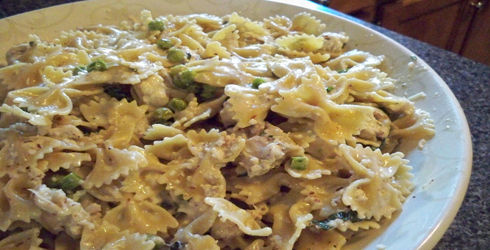 Penne in Almond Sauce is a great weeknight recipe.  I love finding recipes where I can use a store-bought rotisserie chicken.  It makes cooking so much easier, and adds a lot of flavor to the dish.  More then just boiling your own chicken breasts.  The almond sauce is a perfect compliment to the pasta and chicken, giving the dish a light, unique flavor.

You can find the slivered, blanched almonds in the baking aisle of your grocery store, and the rest of the ingredients are simple, and may be things that you have in your home already.  All you would have to do is pick up a rotisserie chicken on your way home from work, and about a half hour later dinner is served.
Recipe: Penne in Almond Sauce
Summary: Penne in Almond Sauce is a great weeknight recipe.
Ingredients
1 pound penne pasta
2 cups (9 ounces) blanched, slivered almonds
2 ½ cups low-sodium chicken stock
¼ cup extra-virgin olive oil
3 cloves garlic, peeled and smashed
1 store-bought, rotisserie chicken, skinned boned and cut into ½-inch cubes (about 2 cups)
1 cup frozen peas
¾ cup heavy cream
1 large lemon, zested
salt and pepper to taste
2 cups grated Parmesan cheese
½ cup chopped fresh basil leaves
Instructions
Bring a large pot of salted water to boil over high heat. Add the pasta and cook until tender but still firm, stirring occasionally, about 8 to 10 minutes. Drain and reserve about 1 cup of the pasta water.
In a blender or food processor, combine the almonds, chicken stock, olive oil, and garlic. Blend until the mixture is smooth. Pour the mixture into a large skillet and turn the heat on to medium.
Bring the mixture to a boil and cook, stirring constantly, until the mixture thickens, about 3 to 4 minutes. Add the chicken, peas, cream, and lemon zest. Cook, stirring frequently until the chicken is heated through, about 4 minutes (mixture will be thick). Season with salt and pepper, to taste.
Put the cooked pasta into a serving bowl and add ½ cup of the Parmesan. Toss together until the pasta is coated. Add the chicken mixture, the remaining cheese and the basil. Toss the ingredients together, adding the reserved pasta water, as needed, to loosen the sauce.
Season with salt and pepper, to taste, and serve.
Preparation time: 10 minute(s)
Cooking time: 20 minute(s)
Number of servings (yield): 6
Culinary tradition: Italian
Rating 5 stars:  ★★★★★ 1 review(s)
Copyright © The Hungry Wife.