24 Jun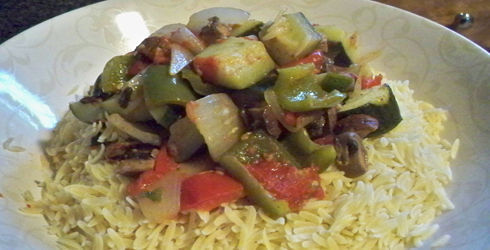 Roasted vegetables served on a bed of pasta puts a new spin on classic comfort food.  Try them topped with a spinkling of Parmesan or feta cheese.
To ensure even cooking and a pleasing appearance, cut all of the vegetables into approximately 1-inch cubes or pieces.  Seed the zucchini if it has a very seedy center.  Roasted vegetables are best served soon after baking.  If you're not serving them right away, leave them on the baking sheet; when hot roasted vegetables sit in a serving bowl for too long, they steam and lose some of their special roasted texture.

Roasted Vegetables and Pasta Recipes
2 cups chopped onions
2 cups chopped green or red bell peppers
2 cups quartered and sliced zucchini
3 cups chopped cremini or portabello mushrooms
4 cups chopped fresh tomatoes
¼ cup olive oil
4 garlic cloves, minced or pressed
1 ½ teaspoons ground fennel seeds
2 teaspoons salt
½ teaspoon ground black pepper
¼ cup chopped fresh basil
1 pound orzo, orecchiette, or conchigliette
Preheat the oven to 400°.
Place the onions, bell peppers, zucchini, mushrooms, and tomatoes in a large bowl.  In a small bowl, whisk together the olive oil, garlic, fennel, salt, and pepper.  Pour the seasoned oil over the vegetables and toss to coat well.
Spread the vegetables in a single layer on one or two nonreactive baking sheets.  Roast for 15 minutes, remove from the oven, stir in the basil, and return the baking sheet to the oven.  Roast for 10 minutes more, stir again, and continue to roast until the vegetables are tender and browned, about 5 minutes.
While the vegetables are roasting, bring a large pot of salted water to a boil.  Cook the pasta until al dente.  Drain and serve immediately topped with the roasted vegetables.
Makes 4 servings or 12 side dish portions
Nutritional Information
Per 26-ounce serving: 670 calories, 19.3 g protein, 17.6 g fat, 112.1 g carbohydrates, 2.4 g saturated fatty acids, 0 mg cholesterol, 1,222.9 mg sodium, 9.8 g total dietary fiber
Moosewood Restaurant New Classics, Copyright 2001, Moosewood, Inc., Clarkson Potter, Publishers