12 Jun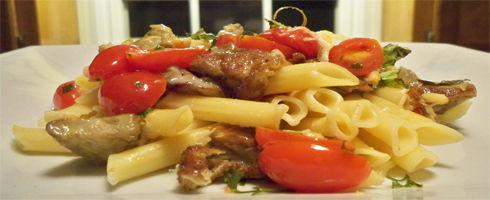 Sicilian Eggplant Pasta:  Eggplant Parmesan, is there nothing better?  And if you love to eat that dish, then you're going to love this Sicilian Eggplant Pasta!  The Hungry Wife version of a rustic Southern Italian specialty pairs the crunchiness of fried eggplant with smooth fresh mozzarella that melts into the hot pasta.  The eggplant's crisp egg coating prevents it from absorbing excess oil when frying.

Cooked eggplant soaks up a lot of oil. As the air rushes out of the cells oil rushes in to take it place. Many cooks insist on salting and pressing (or just draining) the air and water out before cooking. Getting rid of the air means it will absorb less oil during cooking. Salting also reduces the water content which reduces the amount of water leeched out into the dish. If you salt prior to cooking, rinse and pat dry to prevent excessive salt in the end product. Adjust the seasoning in the recipe to compensate for the salt remaining on the eggplant.
Then there is the issue of whether or not to peel the eggplant. Peeling should depend on how the eggplant is used in the recipe. If you never peel, selection becomes extremely important. Young tender eggplant is a must as older tough skin takes longer to cook and by then the flesh is overcooked.
Eggplant can be baked, grilled, steamed, or sauteed. It is versatile and works well with tomatoes, onions, garlic and cheese. The only way eggplant is unacceptable is raw.  Eggplants have a small amount of nutrients. They are naturally low in calories and unpeeled, they provide some fiber. There is also some folate and potassium.
Served with a tossed green salad and vinaigrette, this pasta will quickly become one of your favorite meals.
Sicilian Eggplant Pasta Recipe
6 cups peeled and cubed eggplant (1-inch pieces)
3 eggs, beaten
½ cup olive oil
1 pound chunky pasta, such as shells
2 pints cherry or grape tomatoes, halved
4 large garlic cloves, minced or pressed
1 cup chopped fresh parsley
¼ teaspoon crushed red pepper flakes, or more to taste
12 ounces fresh mozzarella, cut into 1-inch cubes
½ cup grated Parmesan cheese
6 fresh basil leaves, chopped into bite-size pieces
1 teaspoon salt
grated Pecorino or Parmesan cheese
Bring a large covered pot of salted water to a boil.
Meanwhile, toss together the eggplant and beaten eggs in a large shallow bowl.  Heat ¼ cup of the olive oil in a large skillet on high heat until the oil is hot, but not smoking.  Reduce to medium heat and fry the eggplant in two batches.  Add 2 tablespoons of oil to the skillet before cooking the second batch.  Fry each batch about 8 minutes, turning to brown lightly on all sides.  Remove the eggplant with a slotted spoon and drain on paper towels.  Sprinkle with salt and set aside.
Cook the pasta in the boiling water until al dente.  While the pasta cooks, heat the remaining 2 tablespoons of oil in a large saucepan and add the tomatoes, garlic, parsley, and red pepper flakes.  Saute for 2 to 3 minutes, stirring  gently, and set aside.
When the pasta is al dente, drain it, and transfer to a large, warmed serving bowl.  Add the eggplant, tomato mixture, fresh mozzarella cubes, grated cheese, basil, and salt.
Serve immediately, passing additional grated cheese at the table.
Makes 4 to 6 servings
Nutritional Information
Per 18-ounce serving: 778 calories, 31.8 g protein, 40 g fat, 73.7 g carbohydrates, 13.5 g saturated fatty acids, 185.6 mg cholesterol, 877.5 g sodium, 6.7 g total dietary fiber.
Moosewood Restaurant New Classics, Copyright 2001, Moosewood, Inc., Clarkson Potter, Publishers