19 Sep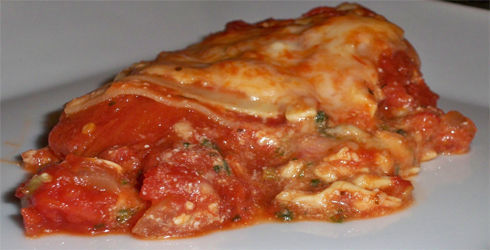 Spinach Lasagna is a healthy, super flavorful pasta dish that the whole family is sure to love.  A few weeks before my son was born, I decided I wanted to stock the freezer with pre-made dinners that only had to be reheated in the oven or stove top.  This would help us in the first weeks after bringing baby home, and ensure we were still eating well.

Spinach Lasagna is easy to make, and you would never know it was frozen when you taste.  If you don't want to freeze it, you just prepare it the exact same way, cooking for 1 hour in a 350 degree oven.  Spinach Lasagna is a great way to get good-for-you spinach into diets of children or those other family members that are resistant  to eat it.  You wont even miss the meat.
Spinach Lasagna Recipe
2 tablespoons olive oil, divided
1 medium onion, finely chopped
½ teaspoon crushed red pepper flakes
3 cloves garlic, minced
½ pound fresh mushrooms, sliced
1 (8 ounce) can tomato sauce
1 (28 ounce) can whole tomatoes, including liquid
1 (6 ounce) can tomato paste
1 teaspoon salt
1 teaspoon oregano
½ teaspoon basil
½ cup red wine
1 egg
1 (10 ounce) package frozen chopped spinach, thawed and well drained
1 cup ricotta cheese
½ cup freshly grated Parmesan cheese
8 ounces lasagna noodles, cooked and drained or no boil noodles
1 pound mozzarella cheese, grated
Cooking Day Instructions:
In a large sauté pan, heat 1 tablespoon oil.  Saute onion, red pepper flakes, and garlic.
Add mushrooms and sauté gently.  Blend in tomato sauce, canned tomatoes with liquid, tomato paste, salt, oregano, basil, and wine.  Simmer about 15 minutes, breaking tomatoes into small pieces as mixture cooks.
In medium bowl, mix egg with spinach, ricotta cheese, Parmesan cheese, and remaining 1 tablespoon oil.
Line 9×13 baking dish with foil then plastic wrap.  To assemble, pour half of sauce into baking dish.  Cover with half of lasagna noodles.  Spread entire spinach mixture over lasagna noodles.  Sprinkle with half of mozzarella cheese.  Repeat, layering with remaining lasagna, then sauce, and ending with remainder of mozzarella cheese.  Cool completely.  Freeze using foil and plastic wrap method*
Serving Day Instructions:
Remove lasagna from freezer and thaw slightly.  Remove foil and plastic wrap from still-frozen lasagna, and return lasagna to original baking dish.  Finish thawing.  Bake at 350° for 1 hour.
Makes 6-8 servings
*Foil and plastic wrap method:  Use this method when freezing items that DO need to hold a particular form, such as Chicken Enchiladas, Lasagna, and Meatloaf.
Line your baking dish with aluminum foil first and then with a layer of plastic wrap (make sure that the foil and plastic wrap are large enough to cover the bottom, sides, and top of the dish).  If your food is hot, allow it to cool slightly.  Fill the dish with your prepared meal.  When completely cooled, seal the plastic wrap, removing as much air as possible.  Then seal the outer aluminum foil layer.  With the packaged meal still in the pan, place it in the freezer.  Once the item has been frozen, slip the meal out of the pan and into a freezer bag, label and place back in freezer until use.