6 Apr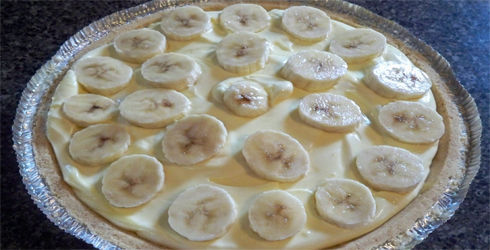 Banana Pudding Pie is the perfect recipe for all those up coming spring/summer parties and picnics.  It is incredibly easy to make, taking no time at all, and requires no baking unless you choose to make your own pie shell.  Unlike some other banana pie recipes, Banana Pudding Pie has a very delicate flavor.  Using vanilla instant pudding layered with bananas, helps infuse the flavor without making it overpowering.

This pie has a lot going for it, one of the qualities I like best about Banana Pudding Pie is that I don't feel guilty after eating it.  No heavy creams involved, just pudding, bananas, and a bit of whipped topping.  It is easily adaptable for those on special diets that may require reduced sugar or gluten-free ingredients.  Vanilla intant pudding and cool whip are both available sugar free, and you gluten-free products are becoming more abundant.  You can find premade pie shells that are wheat free.  Banana Pudding Pie is sure to please everyone.
Banana Pudding Pie
2 ¼ cups cold milk
1 (5.1 ounce package, 6 ½ cup serving size) vanilla flavor instant pudding and pie filling
1 9-inch graham cracker crumb crust pie shell
2 medium bananas
½ cup thawed Cool Whip, or other whipped topping
small amount of lemon juice
Pour cold milk into a medium bowl.  Add vanilla instant pudding/pie filling, mix with a whisk until blended well and thickened.  Pour ½ cup of pudding into pie shell, and spread to cover the bottom.
Slice 1 banana, kind of thin, no large chunks; arrange slices on top of pudding in pie shell.  Top with another ¾ cup of pudding.
Blend the whipped topping into the remaining vanilla pudding left in bowl.  Spread over the pudding in pie shell.  Chill about 3 hours.  Slice the remaining banana; brush the banana slices with a little bit of lemon juice, this keeps them from browning.  Arrange banana slices on top of pie.  Garnish with additional whipped topping, if desired.