25 May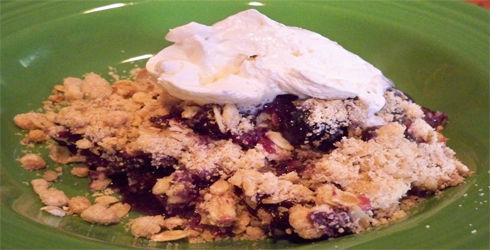 Blueberry Crisp is one of my families favorite fruit dessert recipes.  It is great for summertime when blueberries are in season and extra delicious.  Super easy to put together, Blueberry Crisp is perfect to bring to potlucks or picnics.  This recipe makes 12 servings, but it will go fast.  You can also halve the recipe without too much effort, the nice thing about a crisp is that unlike other desserts, measurements don't have to be exact.

I like to serve Blueberry Crisp warm with some whipped cream or vanilla ice cream.  I love it when the ice cream starts to melt around the blueberries, making the dessert creamy and extra delicious.  If fresh blueberries are not in season when you make this, you can always use frozen.  Just make sure you thaw them first.  For me, crisps are one of those ultimate comfort foods.  You can use many different types of fruit in your crisp (apples, cherries, even a tropical pineapple), but I like to make them based on what is in season.  The fruit is much sweet and has a more intense flavor.  Check out your local farmers market and see what is available for you to make today!
Blueberry Crisp Recipe
9 cups fresh blueberries
1/3 cup granulated sugar
1/3 cup firmly packed light brown sugar
1/3 cup all-purpose flour
½ teaspoon ground cinnamon
¼ teaspoon ground nutmeg
Streusel topping (recipe below)
Preheat oven to 375°F
Stir together first 6 ingredients in a large bowl; toss until berries are coated.  Spoon berry mixture into a lightly greased 9×13-inch baking dish.  Spoon Streusel Topping over berry mixture.
Bake in oven for 40 minutes or until Streusel is golden.
Makes 12 servings
Streusel Topping:
1 ½ cups all-purpose flour
1 ½ cups uncooked regular oats
1 cup firmly packed light brown sugar
½ cup butter, melted
Combine four, oats, and brown sugar in a medium bowl; stir in butter with a fork until mixture is crumbly.
Makes 4 cups