15 Apr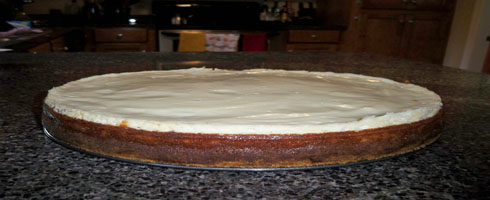 This  Chocolate Espresso Cheesecake is super delicious, and I was thrilled that it turned out so well.  If your a cheesecake lover, make sure to give this one a try.  I was a little nervous because I made a couple mistakes during the cooking process.  First of all, I forgot to melt the chocolate chips until I had poured half of them into the mixing bowl with the eggs and sugar.  I proceeded to melt the remaining chocolate and added it to the rest of ingredients.  Then, the cream cheese probably could have been softened a little more than it was.  I have only made a couple cheesecakes before in my life, so when the filling came out a bit soupy I was really nervous, because I thought the last time I made a cheesecake it was thicker.  I almost scrapped the entire project, but luckily I pushed through.  It is really yummy, and I suggest using espresso to really give it a nice coffee flavor.

Chocolate Espresso Cheesecake Recipe
Crust:
1 ½ cups graham cracker crumbs
¼ cup sugar
3 tablespoons butter, melted
Filling:
1 ¼ cups sugar
6 large eggs
6 ounces semisweet chocolate chips, melted
3 tablespoons Kahlua
Pinch of salt
¼ cup espresso or strong coffee, cooled
3 packages (8 ounces each) cream cheese, softened
Topping:
1 ½ cups sour cream
½ cup sugar
1 teaspoon vanilla extract
Chocolate shavings for garnish
Sifted cocoa for garnish
Preheat oven to 350°.  In a small bowl, combine graham cracker crumbs with sugar and drizzle with melted butter.  Press mixture onto bottom of a 10-inch springform pan.
In a mixer, combine sugar and next 5 ingredients, gradually adding cream cheese until blended.  Pour filling into crust and bake 1 hour and 20 minutes or until almost firm (Do not overbake).
In a small bowl, combine topping ingredients.  Spread over cake, return to oven, and bake 10 minutes.  Remove from oven and let cool.  Refrigerate at least 3 hours before serving.  Top with chocolate shavings or sifted  cocoa, if desired.
Yield: 12 servings