18 Jun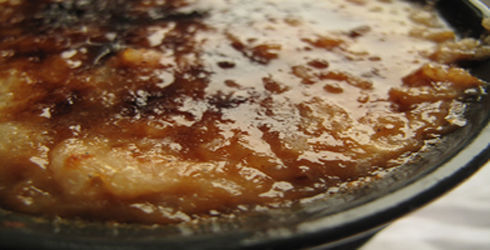 Rice Pudding is one of my ultimate comfort desserts.  I love sprinkling bowls of Rice Pudding with cinnamon and curling up to savory every sweet bit.  Horchata Rice Pudding tastes very similar to the traditional pudding I grew up with, but with a little something extra.  Horchata is actually a traditional Spanish and Latin American beverage made with ground almond, sesame seeds, barley, or rice.  Because this Rice Pudding recipe is made with almond milk and rice milk, we call it Horchata.

Basic Rice Pudding is made by mixing rice with water or milk and sweeteners if to be eaten as a dessert.  Rice puddings are found in nearly every area of the world. Recipes can greatly vary even within a single country. The dessert can be boiled or baked.  Different types of pudding vary depending on preparation methods and the ingredients selected. The following ingredients are regularly found in rice puddings.
Rice; long or short-grain white rice, brown rice, black rice, basmati or jasmine rice.
milk; whole, coconut milk, cream or evaporated
Spices; nutmeg, cinnamon, ginger ect.
flavorings; vanilla, orange, lemon, pistachio, rose water, ect.
sweetener; sugar, brown sugar, honey, sweetened condensed milk, fruit or syrups
eggs
You can see from this list, that the possibilities for rice pudding are endless.  What I really like about this recipe is the caramelized sugar on top.  Of course you can do this to any rice pudding recipe, but it just seems to fit so well with the traditional Horchata flavors.  It dresses up the sometimes plain looking rice pudding and makes it perfect for special occasions and dinner parties.  On a side note, if you can not find a vanilla bean, or want to save yourself some money, you can use vanilla extract instead.  Swap the vanilla bean for 2 teaspoon of vanilla extract.
Horchata Rice Pudding Recipe
1  cup Arborio rice, rinsed
½ cup white sugar
2 ½ cups almond milk
2 ½ cups rice milk
1  cinnamon stick
¼ teaspoon freshly ground nutmeg
1  vanilla bean (can use liquid vanilla instead)
¼ cup turbinado sugar (Recommend Sugar in the Raw)
In a large saucepan, combine the rice, white sugar, almond milk, rice milk, cinnamon stick and nutmeg.  Split the vanilla bean, scrape the seeds from the pod and add both to the milk mixture.  Put the sauce pan over low heat and simmer the rice until it turns very soft and achieves a thick, pudding-like consistency, about 30-40 minutes.  Be careful not to bring the rice to a full boil.  Remove the cinnamon stick and vanilla bean pod.  Divide the mixture between 8 (7 ounce) ramekins and chill until cool.
Sprinkle some of the turbinado sugar over the top of each ramekin.  Using a blowtorch, caramelize the pudding tops until they are golden brown.  If you do not have a blowtorch, arrange the ramekins on a sheet pan and put under a broiler until the sugar has caramelized, about 1-2 minutes.
Makes 8 servings