28 Apr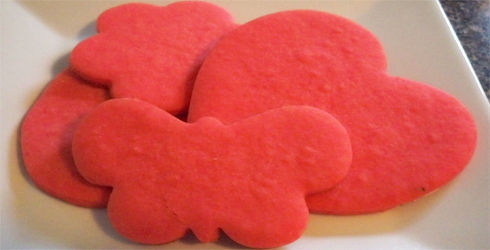 Sugar cookies are always a favorite to make, especially around holidays.  They are simple to make, using very few ingredients and not taking up a lot of time.  Children love to help roll out the dough and cut out the cookies, so you can make it a family event.  Baking some cut out sugar cookies is a great way to spend time with the family, and teach your children the basics of cooking.

Kool-Aid Sugar Cookies are extra spectacular!  They have all the traditional flavors and textures of regular sugar cookies, but with one special ingredient.  By adding a presweetened Kool-Aid to the sugar cookies, you can flavor them anyway you want.  These sugar cookies also don't need to be frosted, unless you really want to.  Cherry or tropical punch are two good Kool-Aid flavors to use for Christmas or Valentine's Day.  A pink lemonade or other citrus flavor is quite refreshing on hot summer days.  Try out your favorite flavor in this recipe, you'll be amazed how wonderful Kool-Aid will make the cookies taste.
Initially I was a little worried about the sugar cookies having too much flavor, or the being overpowered by the Kool-Aid, but in reality it adds just the right amount of flavor and fantastic color!
Kool-Aid Sugar Cookies Recipe
¾ cup shortening
1 stick unsalted butter or margarine, softened
2/3 cup sugar
1 cup presweetened Kool-Aid, your favorite flavor
2 eggs
3 cups all-purpose flour
¾ teaspoon salt
2 ½ teaspoons baking powder
Cream shortening, butter, sugar, and Kool-Aid together with a mixer.  Add eggs, combine well.  In a separate bowl, sift together remaining ingredients and add carefully to sugar mixture.  Mix well.  Wrap dough in plastic wrap and refrigerate overnight.  Roll dough carefully to ¼ inch thick.  Cut with cookie cutters.  Bake at 375° for 7-10 minutes on an ungreased cookie sheet.  Cool on a wire rack, and enjoy the delicious flavored sugar cookies!