13 Jul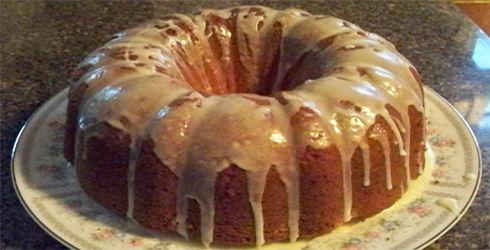 There are many, many recipes for pound cake, but The Hungry Wife thinks we have the very best – rich, buttery, dense, and finely textured.  Here at The Hungry Wife, we love to make and eat a wide variety of pound cakes, all adapted from a recipe we found in Family Circle magazine for a pound cake that won a blue ribbon for Mrs. McCollum at the Rockingham County Fair.  Our hats off to you, Mrs. McCollum, wherever you are!

Orange Pound Cake, pristine in its simplicity, is perfect unadorned, but it's also good with orange slices or maybe with strawberries and fresh whipped cream.
Orange Pound Cake Recipe
Cake:
2 cups unsalted butter, at room temperature
3 cups sugar
2 teaspoons pure orange extract
6 eggs
4 cups unbleached white pastry flour
½ cup orange juice*
2 teaspoons baking powder
Orange Glaze:
1 teaspoon pure orange extract
2 to 3  tablespoons orange juice
1 ½ cups confectioners' sugar
* If you use frozen orange juice concentrate, mix ¼ cup of the concentrate with ¼ cup of water.
Preheat the oven to 350°.  Butter and flour a 10-inch Bundt pan (see Note).
With an electric mixer, cream the butter and sugar.  Beat in the orange extract and the eggs.  Add 2 cups of the flour and beat well.  Add the orange juice and beat.  In a separate bowl, or measuring cup, stir the baking powder into the remaining 2 cups flour.  Add to the batter and beat well.
Spoon the batter into the prepared Bundt pan and bake until the cake pulls away from the sides of the pan and a knife inserted in the center comes out clean, about 60 to 75 minutes.  Cool the cake in the pan on a rack for 10 minutes.  Invert onto a serving plate, leaving the pan on top so the cake holds its shape.  Cool for another 10 or 20 minutes.
Meanwhile, prepare the glaze.  Stir the orange extract and the orange juice into the sugar with a fork, adding the orange juice a tablespoon at a time; use just enough to produce a thick, smooth mixture.  Spread the glaze over the cake with a pastry brush while the cake is still warm, or drizzle it on in a lacy patter.
Note: Not every 10-inch Bundt pan holds the same number of cups.  There are differences in shape and the slope of the sides.  For this recipe, use a Bundt pan that holds at least 12 cups, or the batter is likely to overflow and make an oven mess.
If your Bundt pan is smaller, spoon a portion  of the batter into a miniature loaf pan or a 6-inch round cake pan and bake it alongside your big Bundt cake.  Check the small cake earlier: It will bake in less time.  This small cake is perfect to hand out to neighbors, family or bring into work to share.  Anyone would love to receive one.
Nutritional Information
Per 5-ounce serving: 546 calories, 6.2 g protein, 25.8 g fat, 73.8 g carbohydrates, 15.1 g saturated fatty acids, 161.2 mg cholesterol, 73.3 mg sodium, 0.8 g total dietary fiber
Variations:
Pound cake lends itself to invention.  If you stick with these proportions of ingredients, you can use any flavor of extract you like or use brown sugar instead of white.  For the 1/2 cup of liquid, you can choose milk, yogurt, sour cream, coconut milk, fruit juice, or liqueur.  Sometimes we add nuts, dried fruits, chocolate chips, or spices when dreaming up a new pound cake flavor.
Moosewood Restaurant New Classics, Copyright 2001, Moosewood, Inc., Clarkson Potter, Publishers