6 Dec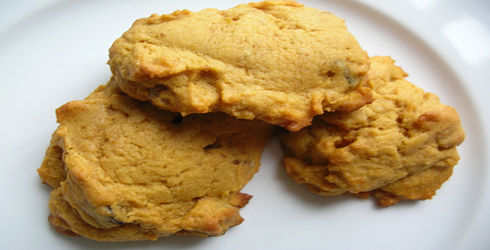 It's that time of year again, holiday baking time!  We all have our favorite cookies to make and share during the holidays, but it is always fun to find new recipes for delicious cookies.  Pumpkin Cookies is a simple recipe that everyone is sure to love.  What you get and moist, chewy cookies with a little bit of spice.  Perfect for the winter season, and a great way to use all the canned pumpkin you can find plentiful in the stores.
Life is sweet, especially since a batch of home-baked cookies can still make someone's day.  Butter and sugar prices may give some bakers pause this holiday season.  Don't let them.  Pumpkin Cookies are the perfect treat to bake for those of us with an eye on tight food budgets.  Pumpkin Cookies is a great recipe to start off your holiday baking.  Simple and delicious, and not too bad for you!
Recipe: Pumpkin Cookies Recipe
Summary: It's that time of year again, holiday baking time!
Ingredients
1 cup butter, softened
1 cup white sugar
1 cup light brown sugar
1 egg
1 teaspoon vanilla
1 cup canned pumpkin
2 cups flour
1 cup old-fashioned oats (quick oatmeal)
1 teaspoon baking soda
1 teaspoon cinnamon
½ teaspoon salt
pinch of ground ginger and ground cloves
Instructions
Preheat oven to 325°F.
Blend butter, sugars, egg and vanilla in a large bowl. Stir in pumpkin and blend well. Combine all dry ingredients in separate bowl and slowly stir into pumpkin mixture. Place spoonfuls of dough on buttered baking sheet.
Bake for 25 minutes or until center of cookie is lightly firm to the touch.
Variations
You can add chocolate chips to the dough to make great chocolate chip pumpkin cookies!
Preparation time: 10 minute(s)
Cooking time: 25 minute(s)
Number of servings (yield): 6
Culinary tradition: USA (General)
Rating 4 stars:  ★★★★☆ 1 review(s)
Copyright © The Hungry Wife.