5 Sep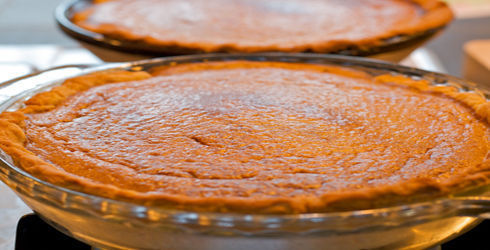 It is officially fall when Pumpkin Pie starts showing up on the dinner table.  I am a huge pumpkin lover, and like to use it as often as possible, and what I make most is this amazing Pumpkin Mascarpone pie.  Taking it to a new level, the Italian cream cheese, mascarpone, lightens up the filling and makes this pumpkin pie out of this world.

I generally buy my pie crusts at the grocery store, but added in the crust recipe for those of you that want a complete made from scratch Pumpkin Mascarpone Pie.
Pumpkin Mascarpone Pie Recipe
Crust:
1 ½ cups unbleached all purpose flour
¼ teaspoon salt
5 tablespoons chilled unsalted butter, cut into ½-inch cubes
¼ cup chilled non-hydrogenated solid vegetable shortening, cut into ½-inch cubes
¼ cup (or more) ice water
Blend flour and salt in processor.  Add butter and shortening; pulse until mixture resembles coarse meal.  Add ¼ cup ice water; pulse until dough begins to clump, adding more ice water by teaspoonfuls if dry.  Gather into ball; flatten into disk.  Wrap in plastic and chill at least 30 minutes.
Do Ahead: Can be made 1 day ahead.  Preheat oven to 350°F.  Roll out dough on floured work surface to 12-inch round.  Transfer to a 9-inch glass pie dish.  Trim overhang to 1 inch beyond rim.  Crimp edges. Chill Crust while making filling.
Filling:
1 cup canned pure pumpkin
1 cup (packed) golden brown sugar
2 large eggs
1 teaspoon fresh lemon juice
1 teaspoon ground cinnamon
1 teaspoon ground ginger
½ teaspoon ground nutmeg
½ teaspoon vanilla extract
¼ teaspoon ground cloves
¼ teaspoon salt
1 8-ounce container mascarpone cheese*
Using electric mixer, beat pumpkin and sugar in large bowl until well blended.  Add eggs and next 7 ingredients and beat until blended.  Add mascarpone cheese and beat just until mixture is smooth.  Transfer filling to prepared crust.
Bake pie until custard is set, about 55 minutes.  Transfer pie to rack and cool.
Do Ahead: Can be made 1 day ahead.  Tent with foil to chill.
* An Italian cream cheese; sold at many supermarkets and at Italian markets.
Makes 8 servings