8 Apr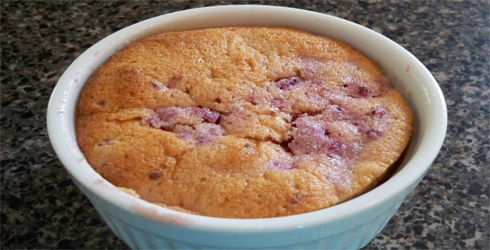 Raspberry Pudding Cake is a delightful little dessert, full of fruity flavor and easy to put together.  When they bake, pudding cakes magically separate into a cakey layer and a custardy pudding layer.  This old American dessert classic has re-emerged in recent years to the joy of many.

Raspberry Pudding Cake is easy to make, light, and deliciously low-fat.  If you prefer, blackberries or blueberries will work fine in place of the raspberries.  For an elegant presentation, run a paring knife around the outside of the baking cups, invert the cakes onto beautiful plates, and serve topped with fresh berries.
Raspberry Pudding Cake Recipe
1 tablespoon fresh lemon juice*
2 teaspoons cornstarch
12 ounces fresh or frozen raspberries**
1 cup sugar
3 large eggs, separated
1 cup buttermilk
1 teaspoon freshly grated lemon peel
½ teaspoon pure vanilla extract
pinch of salt
½ cup unbleached white flour
½ teaspoon baking powder
* Before you juice the lemon, grate and reserve a teaspoon of the peel
** 1 ½ to 2 cups of fresh raspberries equals 12 ounces
Preheat the oven to 350°F.  Lightly oil six ovenproof custard cups or six 8-ounce ramekins.  Place the cups in a 2-inch-deep baking pan.  Begin to heat water to add to the pan just before baking.
In a bowl, combine the lemon juice with the cornstarch.  Add the raspberries and ½ cup of the sugar and toss lightly.  In a separate bowl, with an electric mixer or whisk, beat the egg whites until stiff.  Set aside.  In a large bowl, beat the egg yolks and buttermilk with the remaining ½ cup of sugar.  Beat in the lemon peel, vanilla, salt, flour, and baking powder.  Gently stir in the raspberry mixture, then fold in the beaten egg whites.
Spoon the batter evenly into the prepared cups.  Pour very hot water into the baking pan until the water reaches about halfway up the sides of the cups.  Bake until puffed, firm on top, and golden, 40 to 50 minutes.
Refrigerate and serve chilled.
Makes 6 servings.
Nutritional Information
Per 6-ounce serving:  263 calories, 6.7 g protein, 4 g fat, 51.1 g carbohydrates, 1.3 g saturated fatty acids, 133.5 mg cholesterol, 129.4 mg sodium, 4.2 g total dietary fiber.