1 Jul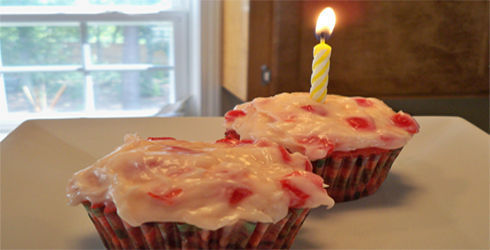 These Red Velvet Cupcakes were the first thing that came to mind when I was planning my birthday dessert. Cupcakes are growing in popularity with speciality shops popping up everywhere. To me, cupcakes have always been one of my favorite treats. They are little personal-sized cakes from heaven, that will travel with you and not make a mess.
Red Velvet Cupcakes are ultra delicious, and if you've never tried Red Velvet it's time you did. It is a little richer than your average white or chocolate cake, which is why Red Velvet makes such good cupcakes. This recipe yields a lot of cupcakes, but it is very easy to scale down the amount. When I make these tasty bits of goodness, I usually cut the recipe in half, unless I'm making it for a very large crowd.
Red Velvet Cupcakes Recipe
1 cup shortening
½ cup butter, softened
3 cups sugar
6 large eggs
2 teaspoons vanilla extract
1 (1-ounce) bottle of red food coloring
3 cups all-purpose flour
2 tablespoons unsweetened cocoa
1 teaspoon salt
1 cup milk
Chunky Cherry Icing
Beat first 3 ingredients at medium speed with an electric mixer until fluffy. Add eggs, 1 at a time, beating just until yellow disappears. Stir in vanilla and food coloring until blended.
Combine flour, cocoa, and salt. Add to shortening mixture alternately with milk, beginning and ending with flour mixture, beating just until blended. Spoon batter into greased floured muffin pans, or line with lightly greased cupcake liners, filling two-thirds full.
Bake at 325° for 30 minutes or until a wooden pick inserted in center comes out clean. Remove from pans, and cool completely on a wire rack. Spread evenly with Chunky Cherry Icing. Store in refrigerator.
Makes 3 ½ dozen cupcakes
Nutritional Information
Per cupcake: 303 calories, 14.3 g fat, 2.8 g protein, 41.7 g carbohydrates, 0.8 g fiber, 48 mg cholesterol, 117 mg sodium
Chunky Cherry Icing
1 (8 ounce) package cream cheese, softened
½ cup butter, softened
6 cups powdered sugar
1 cup maraschino cherries, drained and chopped
1 cup sweetened flaked coconut
1 cup chopped pecans, toasted (optional)
Beat cream cheese and butter at medium speed with an electric mixer until smooth and creamy. Add powdered sugar, beating until blended. Stir in cherries, coconut and chopped pecans if using.
Makes 6 cups
Nutritional Informaiton
Per tablespoon: 61 calories, 2.9 g fat, .03 g protein, 8.8 g carbohydrates, 0.2 g fiber, 5 mg cholesterol, 14 mg sodium