6 Jun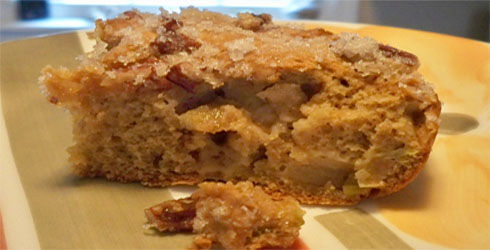 Rhubarb, I can't think of anything that brings me back to my childhood more.  It may sound a little strange, but I have extremely fond memories of our cabin in the Adirondacks and my Great Aunt Joe whenever I eat it.  It always seemed that when we visited my Aunt Joe, she had a fresh, homemade rhubarb pie ready for us, and I loved it.  This Sour Cream Rhubarb Dessert is an awesome way to use, eat, and enjoy this unique vegetable.
Rhubarb is a vegetable with a unique taste that makes it a favorite in many pies and desserts. It originated in Asia over 2,000 years ago. It was initially cultivated for its medicinal qualities, it was not until the 18th century that rhubarb was grown for culinary purposes in Britain and America. It is often commonly mistaken to be a fruit but is actually a close relative of garden sorrel, and is therefore a member of the vegetable family. Rhubarb is also rich in vitamin C and dietary fiber.  It is a cool season, perennial plant that is very winter hardy and resistant to drought.
Be sure to serve Sour Cream Rhubarb Dessert warm and topped with whipped cream.

Sour Cream Rhubarb Dessert Recipe
Cake:
1 ½ cups packed brown sugar
½ cup vegetable shortening
1 large egg
2 cups all-purpose flour
1 teaspoon baking soda
½ teaspoon salt
1 cup sour cream
2 rhubarb stalks cut into ½-inch pieces (1 ½ cups)
Topping:
½ cup sugar
½ cup chopped walnuts
1 tablespoon butter, melted
1 teaspoon cinnamon
Preheat oven to 350°.  In a large bowl, cream together brown sugar, shortening, and egg.  In a separate bowl, combine flour, soda, and salt.  Add to creamed mixture alternately with sour cream, beginning and ending with flour mixture.  Stir in rhubarb.  Pour into a greased and floured 13x9x2-inch pan.  In a small bowl, combine topping ingredients until crumbly and sprinkle over batter.  Bake 45 to 50 minutes or until very lightly browned. (Do not overbake). Cut into squares.
Makes 24 squares