11 May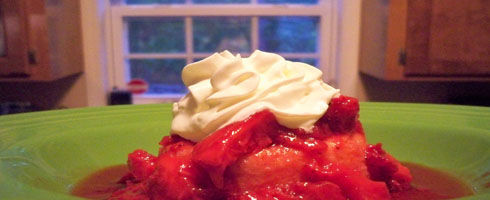 Strawberry shortcake is a simple, delicious dessert that everyone loves.  Being a summer baby, every year when my birthday came around, mom would ask me what kind of cake I wanted for my birthday.  I always picked strawberry shortcake, and mom would make up a batch at home for family and friends.  I love how the strawberry shortcake is assembled in layers.  Making your own shortcake does not take long, and you will be thrilled with the results.  Next time you are at the grocery store, pick up the yummy strawberries, but forego the pre-made individual round pound cakes.  If you are looking for some variety in your life, substitute sliced peaches for the berries.

Strawberry Shortcake Recipe
6 cups sliced strawberries
½ cup sugar, divided, may need extra depending on sweetness of berries
2 cups all-purpose flour
2 teaspoons baking powder
½ cp butter
1 beaten egg
2/3 cup milk
whipped cream
In a bowl stir together the strawberries and ¼ cup of sugar.  Taste to check for sweetness.  If berries are still too tart, add some extra sugar in small amounts; set aside.  Stir together remaining ¼ cup sugar, the flour, and baking powder.  Cut in butter until mixture resembles coarse crumbs.  Combine egg and milk; add to flour mixture.  Stir just to moisten.  Drop dough into 8 mounds on an ungreased baking sheet; flatten each mound with the back of a spoon until about ¾ inch thick.  Bake in a 450° oven about 10 minutes or until golden.  Cool on a wire rack about 10 minutes.  If you like, cut the shortcakes in half horizontally.  Spoon half of berries and whipped cream over bottom layers.  Replace top layers.  Top with remaining strawberries and whipped cream.
Nutritional Information:
Per serving: 423 calories, 25 g total fat, 15 g saturated fat, 102 mg cholesterol, 255 mg sodium, 45 g carbohydrates, 3 g dietary fiber, 6 g protein