25 Mar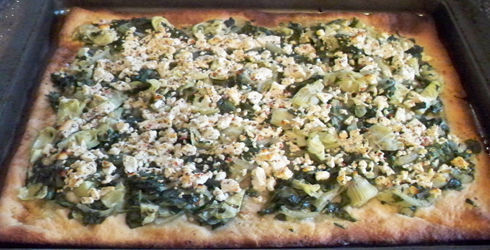 Spinach, Artichoke and Feta Pizza is an amazing recipe and a great way to curb those pizza cravings without all the guilt.  The great thing about this recipe is how perfectly seasoned the toppings are, requiring non of the traditional oily, buttery, garlic white pizza sauce.  Sauteing the veggies together with the addition of garlic, dill and salt brings out an awesome flavor everyone will love.

When making Spinach, Artichoke and Feta Pizza I like to use a large pan, but you can also make two 14 inch pizzas with this recipe.  I also like to use a seasoned feta, like basil and tomato or herb.  It adds just a bit more wonderful taste to the recipe.  Step away from the traditional pizza toppings and try this flavor packed alternative.
Spinach, Artichoke and Feta Pizza Recipe
2 cups thinly sliced onions
2 or 3 garlic cloves, minced
1 teaspoon dried dill weed
1 teaspoon salt
1 tablespoon olive oil
6-10 ounces spinach, stemmed, rinsed, and chopped
1 (14 ounce) can artichoke hearts, quartered
½ teaspoon ground black pepper
2 cups crumbled feta cheese (optional)
Pizza crust – store bought dough or make your own
Preheat oven to 425°F.  If using a pan, lightly oil.  With your hands or a rolling pin, shape dough into a 12-15 inch rectangle or circle.  Press down and out from the center of the dough until the crust has reached desired thickness.  Place the dough on a lightly oiled pan and let it rise for about 15 minutes.  If dough is not the correct size, gently push dough to desired shape.  Before adding topping, poke some hole in the dough using a fork.
While the dough is rising, start working on your topping.  In a large pot, sauté the onions, garlic, dill, and salt in the 1 tablespoon of oil on medium heat, for about 10 minutes.  Add the rinsed spinach and cook uncovered, stirring frequently, until mostly wilted.  Add the artichoke heart quarters and pepper.  Remove from heat.
Allow to cool for a few minutes before spreading onto the pizza dough.  Top with the feta cheese, if using, and bake for 20 to 30 minutes, until the bottom of the crust is golden and the dough is firm throughout.
Makes 1 large pan pizza or 2 14-inch pizzas.
Nutritional Information
Per 5-ounce slice:  208 calories, 6.8 g protein, 3 g fat, 39.4 g carbohydrates, 0.4 g saturated fatty acids, 0 mg cholesterol, 440.4 mg sodium, 4.2 g total dietary fiber