3 Jan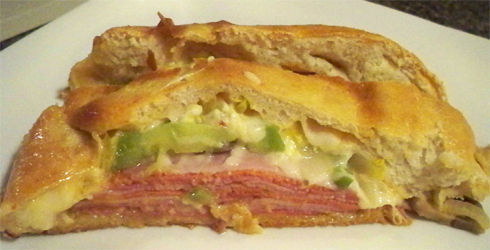 Stromboli Recipe:
This year for Christmas, my mother finally gave me what I have been wanting for a very long time, a family recipe cookbook.  She has been working on this collection since I was a little girl, and I have been dreaming for the day when I would finally get it.  I though to start off the historic cooking collection, it would be fitting make one of my mothers recipes.

Stromboli Recipe is easy to make, and perfect for dinner or a party appetizer.  When reading the ingredient list, you may think there is way too much stuff to fit inside the Stromboli, but trust me, you will not want to skimp.  Keep the amount of meats and cheese the same, but the rest of the Stromboli is up to you.
Be sure to brush on a nice layer of the hot mustard, like you would pizza sauce.  Then, layer all ingredients down the middle, leaving a good amount of room on the sides to be able to easily fold the dough.  For the hot peppers, I used a little less then half a jar, and next time, I think I will use more.
This Stromboli may not be like the ones you find in pizzeria's, but I'm sure it will be your families new favorite.  Your Stromboli will also be the highlight appetizer at parties, especially the Super Bowl or any other big event.
My husband absolutely loves it when I make these!
Recipe: Stromboli
Summary: My husband absolutely loves it when I make these!
Ingredients
Pizza dough (about 14 ounces, enough to make one pizza)
¼ pound thin sliced sandwich pepperoni
¼ pound thin sliced ham
¼ pound thin sliced hot ham or capicola
¼ pound thin sliced Genoa salami
¼ pound provolone cheese
2 cups shredded mozzarella
Green pepper, cut into strips
1 cup onion, chopped
½ cup mushrooms, sliced (optional)
Jarred hot pepper rings, to taste
Nancy's hot mustard (or sweet hot mustard if can't find Nancy's)
1 egg, beaten
Instructions
Preheat oven to 400°F.
Fry green peppers, onions, and mushrooms in 1 tablespoon butter or olive oil until almost tender. Roll out pizza dough to 9×15 inches, place on greased cookie sheet.
Brush on Nancy's hot mustard to within 1 inch of edges. Layer meats down center of dough, leaving about an inch from the end of dough. Top with provolone cheese, green peppers, onion, mushrooms, shredded mozzarella and hot peppers. Spoon some hot pepper juice on top of all.
To fold the dough for the Stromboli, first pull the longer sides up (gently) to the middle, overlapping each other to form a nice seal. Then fold over the ends. Like wrapping a present. Make sure everything is sealed and there are not major tears in dough for the filling to spill out of. If there are tears, try to fix them. It is okay if the dough is thin.
Bake for 10-15 minutes. Remove from oven and brush with egg. Return to oven and bake 5 minutes more or until dough is a golden brown. Serve warm or cold.
Preparation time: 20 minute(s)
Cooking time: 20 minute(s)
Number of servings (yield): 6
Culinary tradition: USA (Traditional)
Rating 5 stars:  ★★★★★ 1 review(s)
Copyright © The Hungry Wife.