19 Apr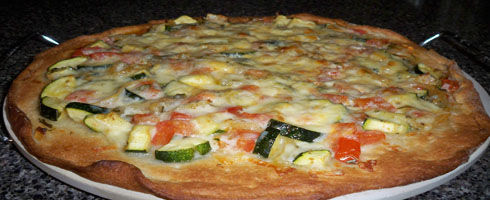 Pizza has become a quintessential American comfort food, and this Zucchini & Fresh Tomatoes with Fontina Pizza fits right in.  Ever since Italian immigrants started making pizzas in their neighborhoods, it's been a hit.  Now you can find it topped with all sorts of vegetables, cheeses, seafood, meats, and even eggs and fruits.  There are pita pizzas, French bread pizzas, English muffin pizzas, taco pizzas, and Hawaiian pizzas.
Pizza goes great with soup and salad.  It's often eaten for breakfast and is probably one of the healthiest fast foods you can buy.  Unless of course your like me, and prefer your pie with extra-cheese.  I love eating this pizza, mainly because I don't feel bad after eating that extra piece.  This nice thing about this pizza is that if you buy pre-made dough, you can make it in a hurry.  Want it a little more organic, then try your hand at making your own dough.

Zucchini & Fresh Tomatoes with Fontina
Yields enough for two 14-inch pizzas.
2 cups thinly sliced onions
2 or 3 garlic cloves, minced or pressed
2 teaspoons salt
2 teaspoons olive oil
2 teaspoons ground fennel seeds
4 cups sliced zucchini*
2 cups chopped fresh tomatoes
¼ cup chopped fresh basil
pizza crust dough**
2 cups grated Fontina cheese (optional)
*Quarter the zucchini lengthwise, and then slice crosswise into bite-sized pieces
**You can buy pizza dough at your local grocery store or use a favorite recipe.  I usually buy mine, but plan to try and make my own one of these days.
Preheat oven to 425° or according to pizza crust directions.
In a skillet or large saucepan, sauté the onions, garlic, and salt in the olive oil on medium heat for 7 to 10 minutes, until translucent.  Add the ground fennel and zucchini and cook until the zucchini starts to soften, 3 to 5 minutes.  Remove from the heat and add the tomatoes and basil.  Allow to cool somewhat and drain any excess liquid before spreading on the pizza crust.  Then top with cheese, if you wish, and bake for 20 to 30 minutes or according to pizza crust directions.
Nutritional Information:
Per 6 ounce slice: 201 calories, 5.8 g protein, 2.7 g fat, 38.9 g carbohydrates, 0.4 g saturated fatty acids, 0 mg cholesterol, 602 mg sodium, 3.2 g total dietary fiber
Moosewood Restaurant New Classics, Copyright 2001, Moosewood, Inc., Clarkson Potter, Publishers