10 Dec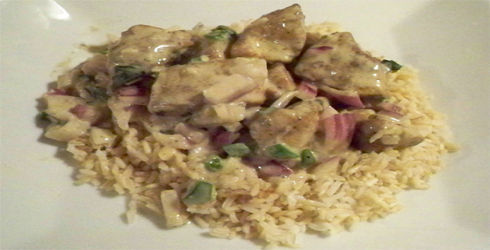 Basil Chicken in Coconut-Curry Sauce is a one dish meal that is packed with flavor.  If you like Thai-style food, you will love this recipe.  Even though it has 2 jalapeno peppers and a bit of chili powder, the coconut milk really tames down the spice.  Basil Chicken is just the right amount of spices, and is a great way to introduce new flavors into your meals.
To reduce the fat and calories in this recipe, use light coconut milk.  You'll save about 14 grams fat and 130 calories per serving.

Basil Chicken in Coconut-Curry Sauce Recipe
4 skinless, boneless chicken breast halves
2 teaspoons curry powder
½ teaspoon salt
½ teaspoon cracked black pepper
¼ teaspoon chili powder
1 large red onion, chopped (1 cup)
5 cloves garlic, minced
2 fresh jalapeno peppers, seeded and finely chopped
1 tablespoon olive oil
1 13 ½ or 14 ounce can unsweetened coconut milk
1 tablespoon cornstarch
3 tablespoons snipped fresh basil
1 teaspoon grated fresh ginger
3 cups hot cooked rice
Cut chicken into 1-inch pieces.  Place chicken in a medium bowl.  In a small bowl stir together the curry powder, salt, black pepper, and chili powder.  Sprinkle spice mixture over chicken, tossing to coat evenly.  Cover and chill for 1 to 2 hours to allow spices to penetrate meat.
In a large nonstick wok or skillet cook and stir onion, garlic, and jalapeno peppers in hot oil over medium-high heat for 2 minutes.  Remove onion mixture from wok.  Add half of the chicken to wok.  Cook and stir for 4-5 minutes or until chicken is no longer pink and cooked through.  Remove chicken from wok.  (If necessary, add additional oil.) Cook remaining chicken as above; remove from wok.
Combine coconut milk and cornstarch.  Carefully add to wok.  Cook and stir until slightly thickened and bubbly.  Return chicken and onion mixture to wok.  Stir in basil and ginger.  Cook and stir about 2 minutes or until heated through.  Serve over hot rice.
Makes 4 servings
Nutritional Information:
Per serving:  495 calories, 26 g total fat, 66 mg cholesterol, 370 mg sodium, 36 g carbohydrates, 2 g fiber, 32 g protein.