19 Aug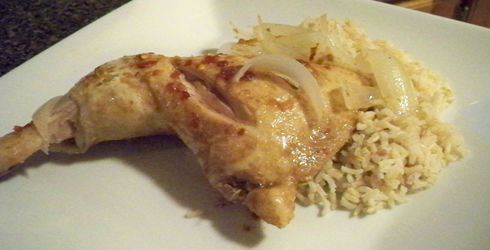 Cantonese Steamed Chicken is something I came up with by combining a couple different recipes.  The steaming process leaves the chicken so moist and juicy, and the flavors meld together very well.  This Cantonese Steamed Chicken dish has a delicate flavor that even the most picky eaters will love.

I received my bamboo steamer as a wedding present last year, and up until recently, had only used it once to make dumplings.  As I have been doing more recipe investigating, I find myself coming across more and more steamed food recipes.  As I continue to try them out, I find that I love them all and steaming is now my new favorite way to cook.  To me, the basics of steaming are: Marinate the meat you will be cooking, put some water in a wok and bring it to a boil, add your steamer to the wok, and cook for 15-20 minutes (or less).  For more detailed information on how to steam your food check out this recipe: Steamed Shrimp with Chili Garlic Sauce.
Steaming is a healthful way to cook. Foods that are properly steamed retain their nutrition and sweet, natural flavor, requiring little or no oil. To people with limited time to cook, steam-cooking has the added benefit of being easy and quick. Tasty food can be made with little effort as long as the ingredients used are fresh.
Cantonese Steamed Chicken Recipe
1 ½ pounds chicken pieces, bone-in (breasts or chicken quarters)
1 ½ tablespoons soy sauce
1 tablespoon rice wine or dry sherry
1 teaspoon sesame oil
½ tablespoon chili garlic sauce, add more or less to taste (depending on how much heat you like)
1 green onion, diced
Salt and pepper to taste (optional)
1 tablespoon shredded ginger (optional)
4-6 medium mushrooms (optional)
Make a couple score marks in each chicken piece.  This will help the chicken absorb more marinade, and cook thoroughly in the steamer.  Place chicken pieces in a zip-lock plastic bag or bowl, and add the soy sauce, rice wine, sesame oil, garlic chili sauce, and salt and pepper (if using).  Allow to marinate for ½ hour to overnight in refrigerator.
Prepare your steamer.  If you are using a bamboo steamer, save yourself from a messy clean up by lining each tray that you are using with parchment paper.  Remove chicken from marinade and place in middle of steamer trays and surround with mushrooms, if using.  Sprinkle the green onions and ginger (if using) over top of chicken.  Steam the chicken over boiling water for about 20 minutes, making sure it is thoroughly cooked.  Serve over rice.