6 May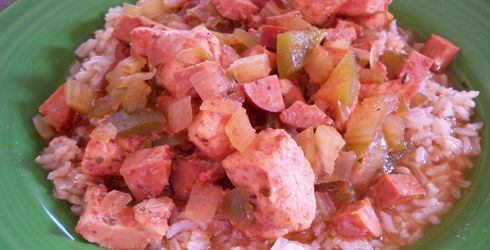 Like a lot of my recipes, this is not a traditional Chicken Gumbo Recipe.  Even though this Gumbo is not prepared in the traditional sense, it tastes every bit as amazing, with a fraction of the effort.  With no roux, this Chicken Gumbo is more thin like a soup, but works wonderfully when served on top of rice.  This more of a Creole Recipe then Cajun.  By not adding a roux to the recipe, this Chicken Gumbo Recipe is much healthier, reducing fat and calories.

All the spices add an excellent flavor, and I think the spice level is just right.  However, if you like, you can bump up the cayenne pepper or even add in some of your favorite hot sauce.  Chicken Gumbo Recipe is a great family recipe,  made with very little effort.  Best of all, you can get your kids to eat veggies and try out new flavors without having to twist their arm.
You can make some modifications to the recipe to make it a little thicker or add in more veggies if you like.  You can replace the tomato juice with a can of crushed tomatoes, half a can of tomato paste, and enough water to make it 2 cups.
Chicken Gumbo Recipe
1 pound boneless skinless chicken breasts, cut into 2-inch pieces
1 (10 ounce) package frozen okra, thawed
2 links andouille sausage, diced
1 cup chopped onions
2 celery stalks, chopped
1 green bell pepper, seeded and chopped
1 teaspoon dried thyme
1 teaspoon dried oregano
½ teaspoon salt
2 bay leaves
½ teaspoon onion powder
½ teaspoon garlic powder
½ teaspoon mustard powder
¼ teaspoon cayenne pepper
¼ teaspoon ground black pepper
2 cups chicken or vegetable broth
2 cups tomato juice
2 cups cooked rice
In a slow-cooker, combine the chicken and all remaining ingredients except the rice.  Mix well to combine.  Cover and cook on low for 6 to 8 hours or high for 3 to 4 hours.  Serve over rice.
Make 4 to 6 servings